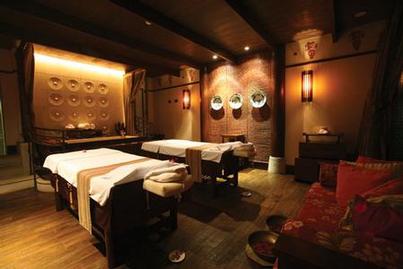 It all began when the sun came out and we decided to look for something refreshing. Our search led us to Mandara Spa's chic interior-a combination of warmth and color using Chinese lattice work and dark woods with Thai design and natural elements to create a sense of peace.
Walking toward our room through the pottery and reed-lined corridor, we soon discovered the bed chamber we always wished we'd had—a two-bed room with a large private bath, dark rich colors, wood and copper accents. After settling in with some jasmine tea, our treatment began with a Eucalyptus foot bath. Our therapist was careful to ensure our feet did not crush the delicate fresh Eucalyptus as she scrubbed our feet with a gentle sea salt scrub. Next, we climbed onto the bed to begin the Lemongrass Body Scrub.
We inhaled the fresh scent as the therapist worked to softly scrub away any rough spots. After a quick jaunt in the shower to rinse away the scrub, it was on to an aromatic oil massage. Again, our therapist, adept in her craft, worked to ease our tensions, even placing pillows under our feet and later under our knees to ensure our comfort. The final touch was a short pressure point facial massage.
We find that many full-body massages neglect the face, though a little added Eucalyptus oil would make this one a bit sweeter—we passed on the recommendation. The treatment ends with a nice bit of peppermint tea, not overpowering with a smooth taste. Don't be afraid to drink the whole pot—we did.
Details: Add: 6/F, Tomorrow Square, 399 Nanjing Xi Lu
Tel: 5359-4969 ext. 6798
Cost: RMB980 plus service charges