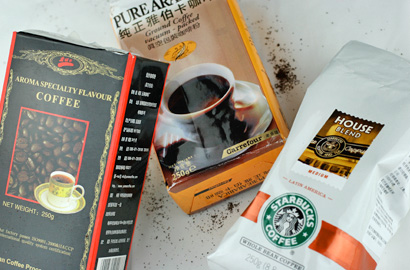 This week saw the installation of a shiny new coffee machine in the office. Although very welcome, the newest addition to the team (and one which -- like all the best employees -- helps to make the rest of the team just a little bit more productive) sparked some debate as to where in Shanghai we could get hold of the best coffee to fill our new friend with.
In a city with almost as many coffee shops as New York or London, it is surprisingly difficult to find good ground coffee for your own machine.
So here we took to the streets, brought back coffee from both sides of the river, wrote this article at top speed, and then edited it once the caffeine wore off.
The result is a list of the top (and bottom) places to find real coffee to use at home:
In the shops:
Carrefour
As is true with a lot of things, living near a Carrefour makes ground coffee fairly easy to find. And thanks to the current European Food Fair display (I think that Carrefour is the only one who knows about the "European Food Fair") the coffee is actually accessible once you get inside. Carrefour stocks its own brand of coffee, Pure Arabica, which is 33rmb for a 250g packet. Pure Arabica is not bad for the price –- definitely drinkable, although lacking the depth in flavor that some of the less generic brands provide. Carrefour carries examples many brands that are ubiquitous in the European supermarkets -- illy, tchibo, Lavazza -- at higher prices (although still reasonable) than their own brand. All these are available in the "Imported Items" section daily.
City Shop
The one-stop shop for imported items that is City Shop offers more variety than the supermarket, but doesn't contribute anything spectacular. City Shop stocks the same brands as Carrefour, with a couple of extras and the opportunity to buy beans to grind yourself. All brands are costlier than at the ordinary supermarket but there is more to choose from, in both brands and roasts.
Gourmet di Casa
This tiny little shop in the French Concession could potentially become a haven of Italian deli items within walking distance for most of Shanghai's expats. Although it provides ample options in the olive oil and salami areas, Gourmet di Casa fails on coffee. They only stock one brand of coffee, their own, which comes in a 195rmb box and contains three 125g sachets of coffee in three different roasts (superior blend, cuba crystal mountain and decaffeinato).