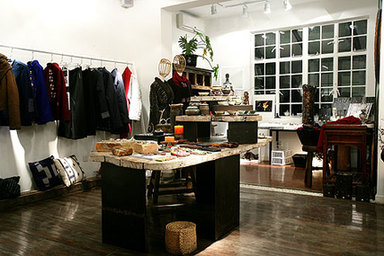 Clothes, furnishings, art and pictures to match the alternative set are found at Urban Tribe - part shop, part gallery and part cafe. [Shanghaidaily.com]
Imagine walking through a set of doors, and your senses being immediately awakened: different textured fabrics from cotton to linen, a vintage sofa, wooden chairs and a well-tended garden with drifting, calming music the soundtrack. You have entered Urban Tribe.
Urban Tribe is a lifestyle boutique, gallery and cafe along the leafy Fuxing Road W., Shanghainese girls Jasmine Mu and Gao Ping want their boutique-cum-gallery a calming retreat for urban dwellers who seek an alternative lifestyle.
As the boutique's name suggests, urbanities can live as natural an existence as tribal people, with some minor adaptations for modern urban life.
"Both of us love traveling. We want everyone who visits our shop to enjoy the feeling of peace and understatement we have discovered on our travels," Gao says.
The slogan is "A Life Traced to the Source."
The duo create handmade products for every facet of life to support their "natural lifestyle" concept.
The naturally lit calming space is filled with a collection of designer clothing, chunky jewelry, home accessories, special travel kits and gorgeous large format photos in black and white, as well as color, taken by talented photographers.
Most of the products are designed by them and feature good taste and unique life concepts.
The handicrafts displayed combine simple, yet unique designs and most importantly, environmentally friendly concepts.
The breezy, baggy clothing is made using traditional methods.
Their collections always reflect Urban Tribe's modern interpretation of some traditional techniques.
"With old methods being replaced by more modern techniques, we are trying to re-introduce beautiful materials while showing our respect for traditions," Gao says.
Shoppers can take a respite in the adjoining cafe, or sip tea in the garden.
Here, visitors sip peppermint tea or Italian coffee while reclining on the comfortable cushions and chairs as they enjoy the photographs on the walls and flip through the travel guides and destination books, perhaps planning their own trip to some other fascinating region.
"We're not pretentious but we know how to provide the whole concept from products to mood," Mu says.
Address: 133 Fuxing Rd W., Shanghai
Tel: 021-6433 5366