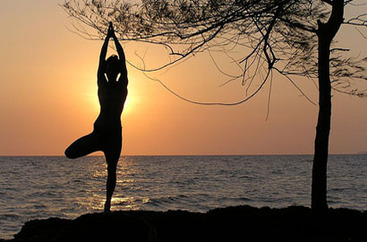 Spring weather makes people easily fatigue. To get refreshed, a nice way is to have a spa. Below list some downtown spa venues.
**Eternity Fitness Retreat

Located near the New Factories, this center specializes in yoga as well as other fitness activities. After winding up the stairs through a typical street entrance, I was surprised to find such an aesthetically-pleasing atmosphere. With a charming and peaceful lane house-style layout, the studios are spread out over a few levels. The facility is relatively new and still building their member-base, but they are off to a great start. Their instructors have been brought in from all over the world -- China, India, Singapore, Indonesia, Ukraine, and France. One of their instructors, Dr. Krishna has won a number of yoga competitions and also has a PhD in yoga.
This particular center strives to provide a sense of community and commitment to educating their members about yoga and fitness even outside of class, free of charge. They also offer a juice and snack bar, and two relaxing lounge areas with Internet access.
All of their classes are conducted in English, and they offer over 15 types of yoga classes including ashtanga, flow, hot, hatha, power, pre and postnatal, yoga kids, tai chi, and meditation. They also offer luxurious spa treatments and different massages to relieve any post-workout tension. A variety of memberships are available, and the drop-in price is 200rmb.
**Yoga Space

This yoga studio, located in the French Concession, emanates peace and tranquility throughout the facility. Yoga Space is quite small and intimate with two rooms for classes. The studio offers a large lounge area for students to relax before or after their class, and members can snuggle up amongst soft pillows and read a yoga book or use the Internet.
The most popular classes offered are hatha, power, Pilates, flow, and free style yoga dance. The instructors at Yoga Space come from Canada, China, and India, and classes are conducted in both English and Chinese. They also offer massage and facial treatments for members. The drop in price is 188rmb.
**Karma Yoga Center

Just a 5-minute walk from Jinmao, Karma Yoga Center embodies a warm and elegant atmosphere with four large rooms, chic dressing rooms, and a relaxing lounge area. The studio's theme centers on India/Hindu décor and displays beautiful statues and artwork.
Their most popular classes are hot, hatha, pre and postnatal yoga, and meditation. They even offer yoga classes for children. They're instructors come highly accredited and hail from Canada, America, Slovakia, China, and have been teaching for 10 to 30 years. The studio also offers private classes for a maximum of two people, which is a fantastic package for couples. Karma Yoga focuses on breathing techniques and slow moving postures to relax joints, muscles, and expel toxins. Memberships are available and the drop-in price is 100rmb.
**Y+ Yoga Center

Arguably one of the best yoga centers in Shanghai, Y+ Yoga Center has two locations: one in Xintiandi and the other on Fuxing Lu in the French Concession. They each have a totally different vibe so you can choose which place best suits your needs. The Xintiandi yoga center is much bigger and a little more glamorous. It kind of feels like you're in a really nice day spa. The one on Fuxing is much cozier and more intimate. I personally prefer this location, but both are fantastic. The charming studio spans out over a few small levels, and the atmosphere promotes Zen and relaxation. Many of the students here are quite advanced in their practice, but beginners are welcome by an incredibly friendly staff and group of instructors. The instructors are willing to work with everyone individually throughout the class regardless of prior experience. Memberships are available, and the drop-in price is 200rmb. Y+ also has discount packages for certain courses.
**Kundalini Yoga Asia

Another fabulous yoga studio is Kundalini Yoga Asia, which is located in the heart of the Jin'an district. Kundalini offers all of the standard yoga classes including meditation and children's yoga. They offer early morning, lunch, and evening sessions. Couple sessions are available as well on weekends. Kundalini is an ancient form of yoga that's only been practiced in western societies more recently. Their classes focus a lot on breathing techniques, mental clarity, and the removal of stress-related blocks. Kundalini is a more spiritual form of yoga, and explores deeply the spiritual side of the exercise. All classes are conducted in English and class fees range from 130rmb to 500rmb (the latter being for a couples session).
**Yoga Shala Yoga

Shala has two locations as the first one became so popular they had to open up another one. Yoga Shala I is located on Huaihai Lu, and the new Shala II is at the New Factories on Yuyao Lu. The new location is gorgeous and tailored with simplicity and beauty. It's spread out over two floors and includes a lounge area with books and Internet, juice bar, and a cute outdoor area as well. The team at the Shala are extremely friendly and accommodating. The studio is equipped with four different yoga rooms, each with a different theme, and classes are conducted in both English and Chinese. Memberships are available, and the drop-in price is 200rmb.