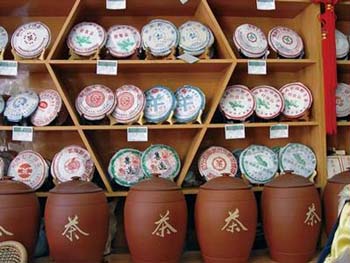 As the temperature plummets, it is time for some hot tea. I set off for the city's wholesale markets and I find more than tea: immense knowledge and generosity. There are rows and rows of crammed stalls in the giant, drafty Tianshan Tea City (Markets). I tromp through two floors and randomly enter a shop with an impressive collection of pu'er tea. The shopkeeper immediately invites me to taste tea. We begin with raw pu'er. Next we try fermented (or "cooked") pu'er. The owner of the Lancang Ancient Tea shop, Andy Zan, was once a tour guide, but several years ago he fell in love with pu'er tea and opened this shop.
Pu'er is an obsession among aficionados. Like wine, the finest teas (from the oldest trees) grow mellow and complex over time. Investors and devotees speculate on, collect and pour fortunes into pu'er. There is one known ancient pu'er tree which is 1,300 years old. Zan has a photograph of it on his wall. "Once I had the opportunity, with several others, to drink tea from ancient trees which grow very close to this tree," he says. "Some of the people with me were crying as they drank it."
Zan is not the only tea fanatic here. "I've got about five tons of pu'er at home," he says. I suddenly appreciate the wealth of knowledge available to anyone willing to chat and taste tea with the market's shopkeepers. Next I visit a stall displaying a brilliant yellow chrysanthemum tea. "This is grown at high altitudes. It has a sweetness you will never find in that tasteless ubiquitous white chrysanthemum grown in low-lying fields," explains the owner. When he sees my appreciation, he unrolls a silver bag. "The finest black tea I have," he smiles warmly and brews a pot. It is magnificently aromatic. "Come to my village in Huangshan and I'll show you the whole process from fermenting to drying the tea leaves," he says. Later, I taxi up north, to the Jiuxing Tea Leaf Wholesale Market (Markets) where I meet a woman from Fujian. "With fine green tea, you can taste the fragrance in the water," she says. Her eyes light up. She offers me tea, but I have had too much today. "Wait, take some with you," she urges as she measures out a small bag as a gift.
Tianshan Tea City
Location: 520 Zhongshan Xi Lu near Kaixuan Lu, Metro Line 2 Yan'an Xi Lu Station
Jiuxing Tea Leaf Wholesale Market
Location: No.6 Bridge, Caobao Lu near Hongxin Lu