From an early age, Kerim Abiliz's family chores included shuttling back and forth to collect water from a public tap a few miles from his home. The two buckets of water, which Kerim carried on the ends of a pole balanced across his shoulders, usually lasted his family two or three days.
The routine continued for more than 30 years, and although it's now a memory, the 56-year-old can recall the pain of those arduous trips.
"I was really sick of it," he said. "Sometimes when we didn't have time to carry the water, we had to pay others to do it."
Finding drinking water was just one of the challenges faced by Kerim, who used to share a house in the Heijiashan area of Urumqi, the capital of the Xinjiang Uygur autonomous region, with about 10 relatives. The house, built by his father, had no running water, electricity or gas.
"The neighborhood didn't even have any garbage dumps, and no bus would come here because the roads were too narrow," Kerim said.
Heijiashan covers an area of 177,000 square meters in Urumqi's Tianshan district. Migrants account for about 75 percent of the area's population of 53,000, and 91.6 percent of them hail from ethnic groups.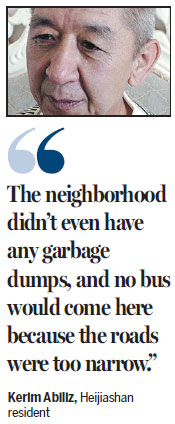 A lack of stable jobs, coupled with low incomes, saw Heijiashan become notorious as a place with poor public order and a high crime rate. The area was badly damaged in a riot that erupted on July 5, 2009, and resulted in the deaths of 197 people.
In 2010, the municipal government invested 23.3 billion yuan ($3.8 billion) to launch 97 renovation projects in the city's shantytowns, and since then 29,000 families have been housed in new apartments.
In Heijiashan, 1,855 households have benefited from the project, and by August about 2,300 apartments in new residential buildings had been given to local residents.
Last year, Kerim moved into a new two-bedroom apartment in an area formerly occupied by dilapidated houses. The apartment is decorated with Uygur-style furniture and equipped with modern amenities.
Kerim's old house covered about 200 square meters, so the family was given four apartments of equivalent size as compensation. They also bought a 70 square-meter apartment for far less than the market value.
The crime rate has fallen dramatically since the renovation project began, according to Kerim, who works as a community security guard. "People from different ethnic groups are more willing to communicate and help each other now. Everything is far more convenient for us," he said, adding that his two grandsons will be enrolled in the community's new kindergarten when it is completed in a few months.
"I never imagined that my life could be like this," he said. "Now my biggest dream is to travel to Singapore, South Korea and Turkey when I retire."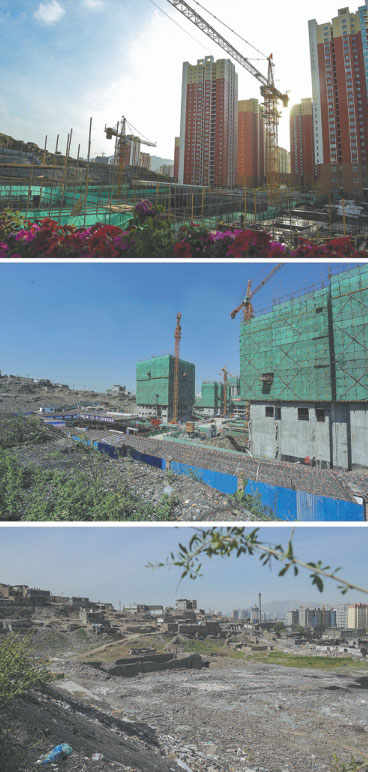 Three views of the reconstruction of the Heijiashan area of Urumqi. In 2010, the municipal government invested more than 23 billion yuan ($3.8 billion) to launch the project. So far, 29,000 families have been rehoused in new apartments. Wang Fei / Xinhua
(China Daily 10/09/2015 page6)