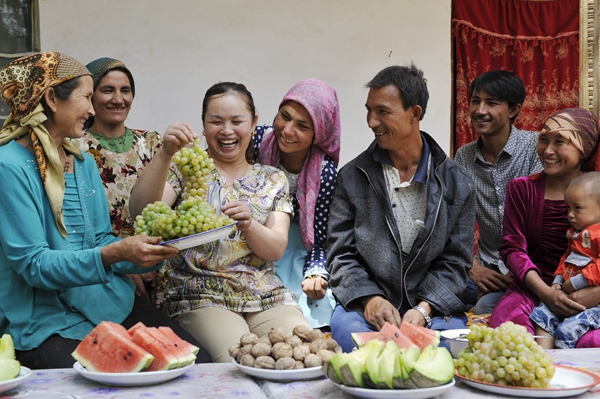 You Liangying (second from left, front) visits Memeturop Musak (third from left, front) at his home in Pishan county, Hotan prefecture, on Sept 3.[YORTIK NIJAT/CHINA DAILY]
The value of an old name is difficult to measure. The Xinjiang Production and Construction Corps may sound like a quaint setup to outsiders, but in the Xinjiang Uygur autonomous region, the nickname "Bingtuan" is heard almost everywhere, every day.
Many families in the region are second - or third-generation Bingtuan workers, as befits a provincial-level organization with a history of 61 years. The corps is currently composed of 14 divisions and 176 regiments, located across Xinjiang, and its 2.7 million members account for nearly 12 percent of the regional population.
The very word "Bingtuan" represents a wealth of stories, especially for its thousands of workers and their families who migrated to China's westernmost region. Some stories tell of hardship, the "eating bitterness" the pioneer builders endured as they struggled to transform the Gobi Desert into fertile farmland. Others speak of the production of foods that are rarely seen elsewhere in China; few people realize that the tomatoes used in 70 percent of the tomato sauces sold in the Europe are grown in the vast fields of Xinjiang. There are also tales of the corps' success in rejuvenating itself and exploiting new opportunities.
However, the most popular stories revolve around the strong ties forged over time by the Bingtuan people and the Xinjiang locals.
First meeting
You Liangying manages a cotton plantation in the Bingtuan's 1st Division, which is settled on the northwestern edge of the Taklimakan, the world's second-largest desert. Every year for the past decade, You has visited Memeturop Musak at his home in Pishan county, Hotan, a prefecture that borders the southern fringes of the desert.
"It's a sister's duty to check on her brother's family to see how they have been doing," You said, sitting with Memeturop and his family at the dinner table on an evening in early September.
The "brother" and "sister", as they call themselves, met in 2005 when You recruited Memeturop as a temporary cotton picker and patiently taught him how to pick the crop with both hands instead of just one so he could earn more money. When the harvest season ended and Memeturop left the farm, You thought she would never hear from him again. She was wrong.
In January 2006, You received a call from Memeturop, who asked her for help because he didn't have enough money to pay for the surgery his wife needed badly. Despite objections from her relatives, You wired 10,000 yuan ($1,570) - one-third of the family's annual income at the time - to her former employee's bank account.
Career development
Three months later Memeturop invited You to his home to express his appreciation. She was shocked to discover that the family lived in a house made from the branches of poplar trees. After learning that Memeturop had borrowed meat, which he normally couldn't afford, from his neighbors, she determined to help the family improve its standard of living.
She invited Memeturop and his family to stay with her so she could teach him how to manage a cotton plantation, and use the skills on his own field in Pishan, making the move from picker to producer. She also bought new cookware so the family could cook halal foods during their visit.
While Memeturop learned agricultural skills from You, he began teaching her the Uygur language. You proved a diligent student and within a few months, she was proud to be able to communicate in basic Uygur.
In 2011, You suggested that Memeturop should plant date trees. She loaned him the money to cover his startup costs and began to undertake annual visits to lend a hand and teach Memeturop how to care for the trees. In 2014, Memeturop made a profit of more than 300,000 yuan by selling cotton and dates, so he traded his old house for a new one equipped with new furniture, a fridge, and a TV.
Memeturop now regards You as his "sister". For her part, You will continue to help her "brother" in the future, despite the recent dramatic improvements in his life. "I'm so glad my children and his have become good friends too. It's the way to be," she said.
Contact the writers through cuijia@chinadaily.com.cn