March 8: Ministers' views from 'ministers' passage'
Editor's note: Several ministers took questions from reporters along the famous "ministers' passage" before the fifth session of the 12th National People's Congress, the country's top legislature, held its second plenary meeting at the Great Hall of the People in Beijing at 3 pm on Wednesday.
The "ministers' passage", also known as "the ministers' red carpet", is the 100-meter passage near the northern gate of the Great Hall of the People where ministers and other high-ranking officials must walk through before entering the meeting hall.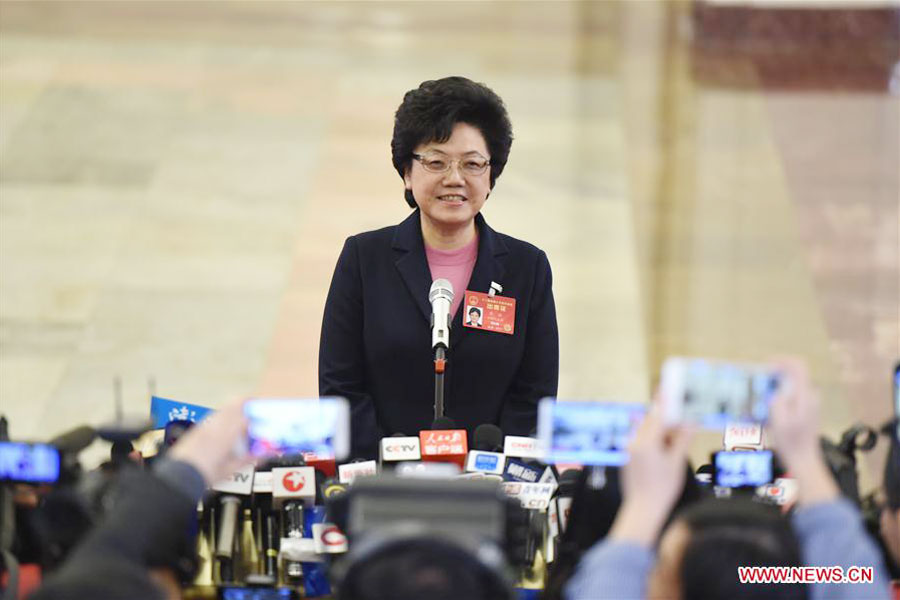 Li Bin, head of the National Health and Family Planning Commission, receives an interview before the meeting, March 8, 2017. [Photo/Xinhua]
Chinese hospitals to get 89,000 extra maternity beds
By Shan Juan
China will increase the number of maternity beds by 89,000 over the next three years to help hospitals cope with the demand resulting from the second-child policy, it was announced today.
Li Bin, the minister of the Health and Family Planning Commission, said a "green passage" has also been set up to ensure efficient patient referrals and quality neonatal treatment.
The moves are part of efforts to better meet clinical demands, particularly for women aged 35 or older who want a second child.
China introduced its universal second-child policy last year and about half of the women who became eligible to have another child were aged at least 35, according to the commission.
Li said the number of pediatricians will also be increased to handle the expected increase in births.
Last year, China recorded 17.86 million newborns, up by more than 1.3 million on 2015. Population scientists have predicted a baby boom in three years.
To ensure healthy development, the commission has been promoting a brochure on mother and children's health that includes pregnancy tips, information on hospital delivery, and immunization programs.
Li said the commission will work closely with other government agencies such as education, social security and finance to ensure the second-child policy is implemented properly.