On the ice, senior hockey players find youth again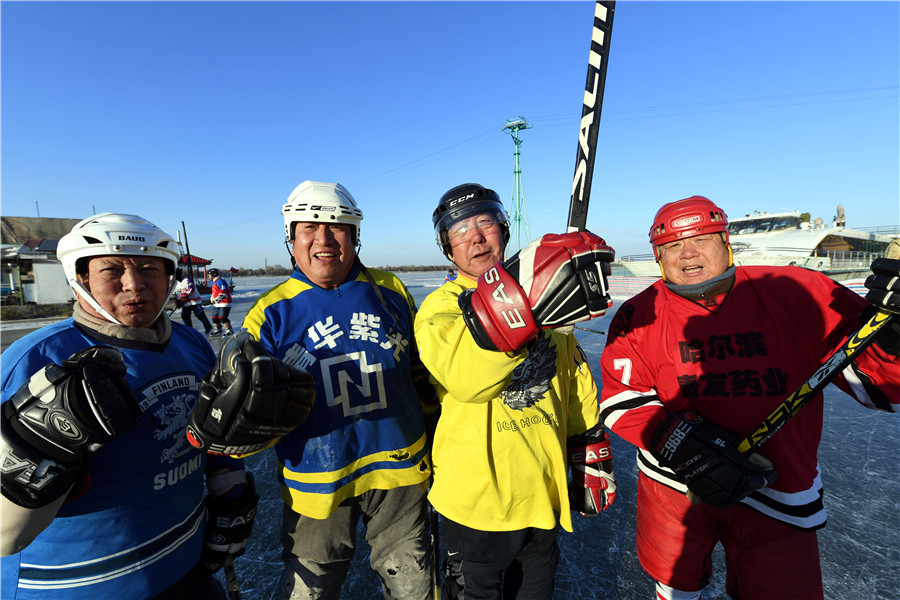 Xie Hongli (second from left), who is 72, and his teammates gather after practicing ice hockey on the frozen Songhua River as temperatures in Harbin dropped to as low as -20 C on Wednesday. Liu Yang / For China Daily
After a heavy snow the previous day, the temperature had dropped on Wednesday to as low as-20 C in Harbin, the capital of Heilongjiang province. However, the extreme cold and strong wind on the frozen Songhua River couldn't stop the enthusiasm of a group of ice hockey players.
Watching their free and skillful actions on the ice, one would hardly imagine, especially under the heavy uniforms and helmets, that the average age of the 30 team members is 66, with the oldest player being 78.
Since the team was founded in 2000, its playing has become a unique scene on the Songhua River. Every year when the river freezes, the 30-plus players meet for their first match. The matches will continue every day without interruption until the following March.
This year, they had their first game on Nov 18, said Xie Hongli, 72, a retired Harbin Railway Bureau worker.
"Most people don't like the cold winter in the northeast, but we begin to look forward to it starting from late autumn," he said. "The ice arena is our favorite playground."
Most members of this unique ice hockey team have been trained and played the sport well when they were young.
"Most of our team members are locals who retired from different factories and had experienced the sport's heyday in the city in the 1960s and 1970s. At that time, ice hockey was the No 1 sport in Harbin, and almost all the factories would organize ice hockey matches in the winter," he said.
Xie learned skating in primary school and became a member of the school ice hockey team in junior high school. After he began working in the mid-1960s, he would participate in dozens of ice hockey matches at different levels each year.
But starting in the 1980s, the ice hockey matches began to gradually decrease, and Xie had fewer opportunities to play.