Chinese retiree becomes model ship master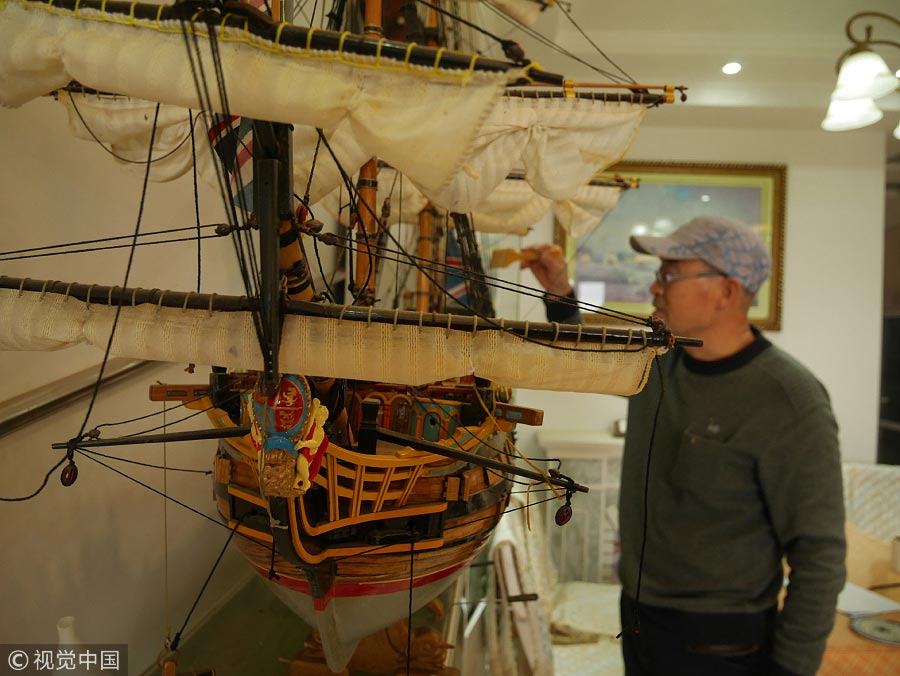 Zhao Jinlong cleans his model ship at home, Nov 11, 2017. [Photo/VCG]
CHANGCHUN - A Chinese carpenter has dedicated his retirement to making model ships, with some of them fetching thousands of dollars.
In the last five years, Zhao Jinlong, 65, has made 17 wooden models of famous ships by hand, including the Mayflower, HMS Victory, the Swedish ship Gotheborg and the Russian ship Ingermanland.
Zhao was a carpenter in a metal foundry in Jilin city of Northeast China's Jilin province.
"I live by the Songhuajiang River and have always had a fondness for ships. I wanted to build a ship with my own hands, but now that I've retired, I can only build models," he said.
Zhao bought boat drawings online and from friends, most of them written in English.
"These old ships had a complicated structure, and I had to study the drawings and make out every detail," said Zhao.
His first work, the Mayflower, took him a year.
"My wife hated me for being so crazy about making model ships, but eventually she had no choice but to change her mind. Now she helps me braid the ropes and buy canvasses," he said.
Zhao's meticulous work has drawn interested buyers. He was offered 27,500 yuan ($4,166) for a 1.5-meter-long model of HMS Victory, the famed British naval ship.