Militia family guards island for over 60 years
Editor's note: In the lead up to the 19th Communist Party of China National Congress, which begins Oct 18, chinadaily.com.cn is focusing on delegates to the congress.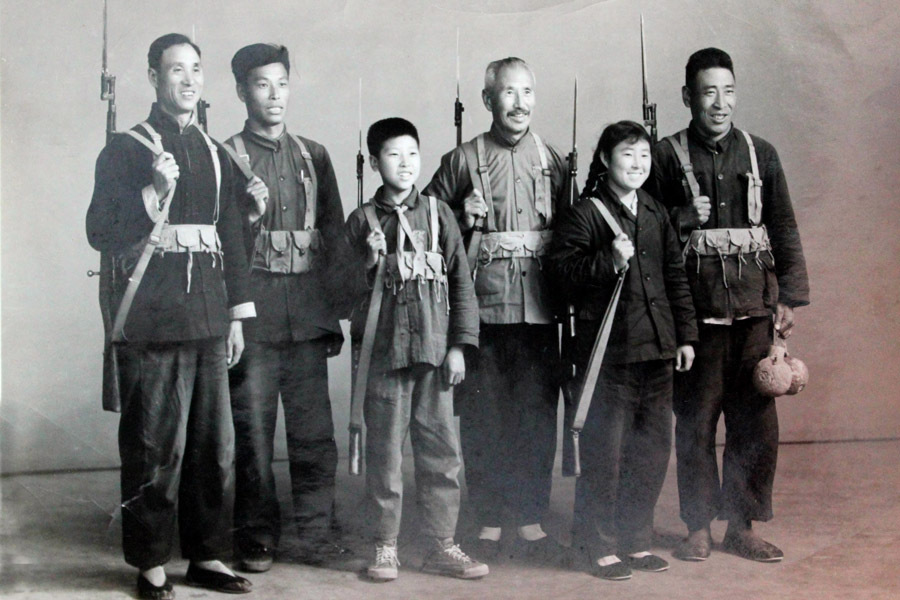 A keepsake photo, taken in 1964, shows Lyv Qixi, third from right, Lyv Zhiyu, second from left, and Lyv Yongshun, third from left, when they took part in a militia convention in Shandong province. [Photo/Xinhua]
Lyv Shouqing is a ship commander. Overhauling and maintaining engines in a small engine room is one of his daily works.
He graduated from college in 1998. Back then, he could have taken a job at a foreign company with a huge salary. But he chose to join the army and serve as a border policeman in his hometown, Kongtong Island, located in the northeast sea of Yantai, Shandong province.
Since he enrolled in the army, he has been honored five times and made important contributions twice. In 2003, he joined the Communist Party of China.
"Both my great-grandfather and my father are members of the Communist Party. My grandfather has defended the island as a militiaman his whole life," Lyv Shouqing said. "Because of them, I consider enrolling in the army and joining the Communist Party as the most glorious thing to do at an early age."
Four generations of Lyv's family have been stationed at Kongtong Island for more than 60 years, defending the island with assiduity.
Lyv Yongshun, Lyv Shouqing's father, was a militiaman, what police were called in the early days. He joined in his teens. At 18, he enrolled in the army and joined the Chinese Communist Party in 1975. He served as a border policeman all his life, patrolling and guarding the island.
Lyv Zhiyu, Lyv Shouqing's grandfather, was also a militiaman. The island traffic was inconvenient in the 1970s, so he offered to undertake the duty of rowing a boat to transport people and goods every day.
He did this work for over 20 years, rain or shine.
Most of the island's inhabitants had been transported by his boat and received letters from him.
The family's militia career is traced from the 1950s, when the militia of Kongtong Island was set up. Lyv Qixi, Lyv Shouqing's great-grandfather, was one of them.
"Now I have been a border policeman, guarding this sea and this island as my great-grandfather, my grandfather and my father do," he said. "It might be a family mission."
Lyv Shouqing's son is seven years old now and named Wanjun, which means "many troops". His great-grandfather hopes he will join the army when he grows up, to continue the family career of safeguarding the sea and the island.