Guizhou teacher serves as shining example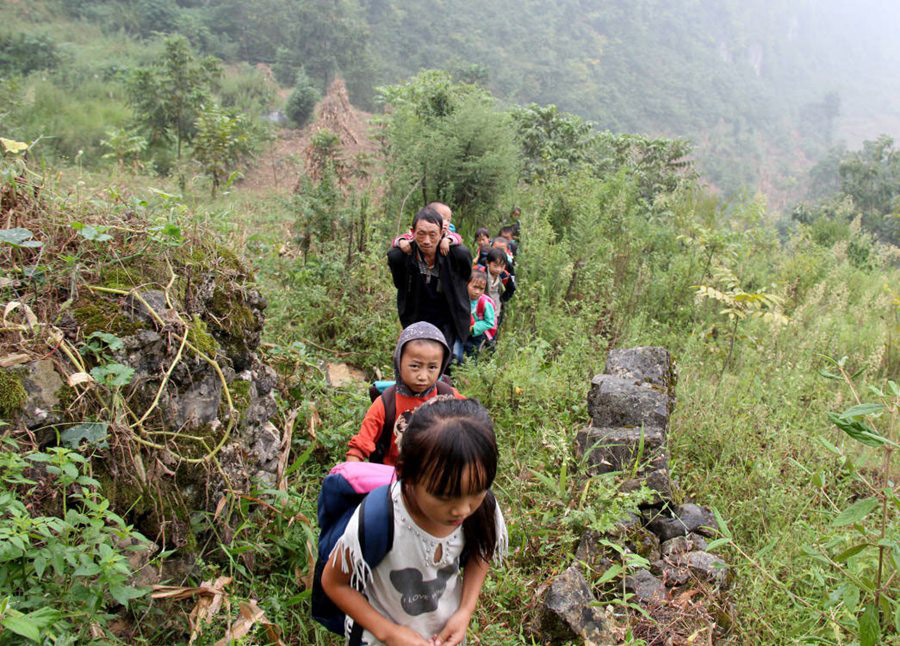 Yang Shaoshu, a rural school teacher, guides the students to school safely in Jinlan town of Qianxi county, Guizhou province. [Photo/chinadaily.com.cn]
Aside from his kindness in guiding the children, Yang is also a good teacher. Nobody has dropped out of school, and some students have even entered universities.
Zhao Longyi and his sister Zhao Tingting are left-behind children. They can continue their studies and display good behavior as thanks for Yang's efforts.
"Mr Yang is full of patience, he teaches us until we understand all the subjects. If we're confused when he says something, he will explain to us again and again," Zhao Longyi said.
"He also purchases stationery for us," Zhao added.
Yang's hard work has earned reward. One second-grade class he taught got first prize during a teaching appraisal, scoring the best out of the whole town. Yang also received a third prize award from the school management for meeting county objectives last year.
Wang Yi, headmaster of Huashan, said that all of the teachers here can quit — but not Yang. He is the only instructor who can speak both the language of the ethnic Miao and Mandarin.
"22 students out of 53 in our school are ethnic Miao," Wang said. "They don't speak Mandarin before they enter school, so we need Yang to teach grades one and two in both languages."
Yang Shaoshu is a rare breed of teacher, spending his life in a remote place like Guizhou. He has stayed in a poor area, but served as a shining example to others.