Storm batters southern China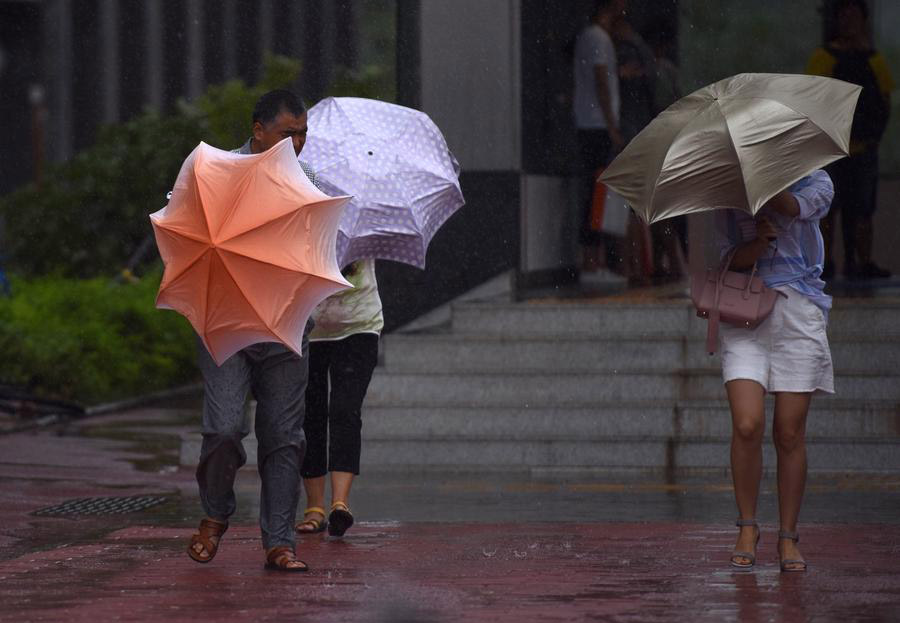 People walk against strong wind and rain in Shenzhen, South China's Guangdong province, Aug 27, 2017. Pakhar, the 14th typhoon this year, landed around 9 am (0100 GMT) Sunday in the city of Taishan in Guangdong, bringing gales of up to 33 meters per second. [Photo/Xinhua]
GUANGZHOU - Pakhar, the 14th typhoon of the year, landed in south China's Guangdong Province Sunday morning, days after Typhoon Hato made landfall in the province.
Pakhar landed in the coastal areas of the city of Taishan around 9 am and weakened into a severe tropical storm from 10 am, according to Guangdong meteorological authorities.
The provincial flood control headquarters said the cities of Shenzhen, Huizhou, Shanwei, Zhuhai, Zhongshan and Jiangmen had seen rainstorms.
Zhuhai city, where Hato landed Wednesday, started the temporary closing of local companies, government agencies, schools and public places Saturday. Workers are checking the city's grid to ensure power supply.
Macao has also been struck by Hato and Pakhar. Upon Macao's request, Guangdong has sent 20 fire tankers and a batch of disaster relief materials, such as disinfecting devices, water pumps, generators and gloves.
China's National Meteorological Center said that Pakhar would move northwest, entering Guangxi Zhuang autonomous region on Sunday evening while losing strength.
The agency forecast Guangdong, Fujian and Hainan provinces as well as Guangxi would see torrential rain from Sunday to Monday afternoon.
According to China Southern Power Grid, a total of 9,000 emergency repairers, 97 emergency generator vehicles and 1,691 generators are in place in Guangxi in case of power failure.
Hainan maritime authorities suspended the service of roll-on/roll-off passenger ships and cross-sea trains running in and out of the province. A total of 24,124 fishing boats have been put into harbor.
Ma Jianhua, an official with the Yangtze River flood control headquarters, said Hato had brought about the obvious rising of water levels in the Yangtze. The headquarters has dispatched personnel to Sichuan and Yunnan provinces to aid flood control.
In Yunnan, two more people have been found dead in disasters triggered by Hato, bringing the death toll in the province to five.


Related story:
Pakhar lands in South China

11 rescued from sunken cargo ship in Hong Kong during Typhoon Pakhar's hit