PLA garrison aids relief after typhoon hits Macao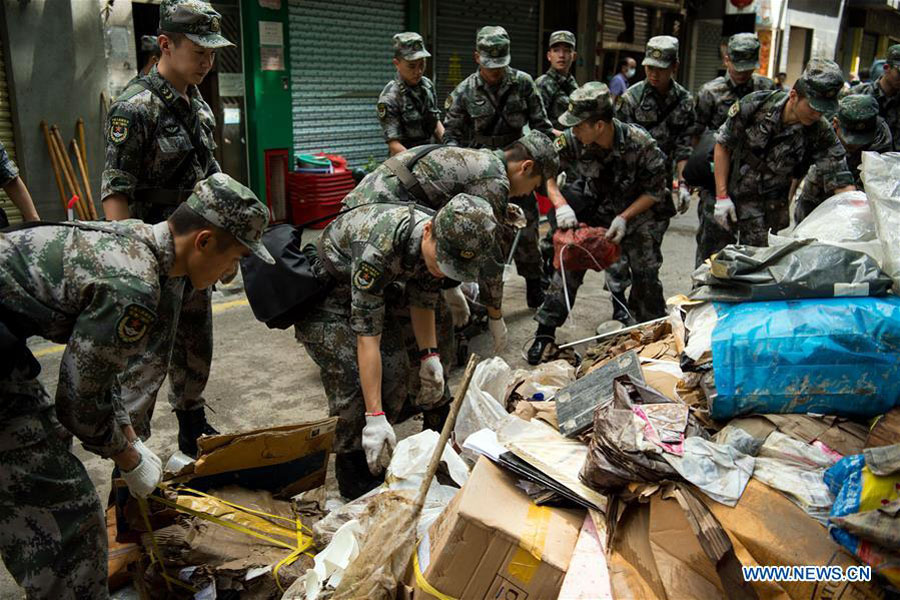 Officers and soldiers help with the relief work of the disaster caused by typhoon Hato in Macao Special Administrative Region, South China, Aug 25, 2017. [Photo/Xinhua]
About 1,000 troops from the People's Liberation Army Garrison in Macao were mobilized on Friday to support disaster relief efforts after typhoon Hato struck the Macao Special Administrative Region. This marks the first time the PLA garrison in Macao was deployed on a local mission.
The mobilization came at the request of the Macao SAR government and was approved by the central government in accordance with the Basic Law of the Macao SAR and the Garrison Law of the Macao SAR.
"We give our full support to the SAR government in protecting the lives and properties of Macao people, in a bid to restore normality as soon as possible," Deputy Chief of Staff of the PLA Garrison in Macao Gao Zhijun said on Friday.
The PLA Garrison in Macao said it will make concerted efforts with the SAR government, central government agencies in Macao and Macao compatriots to help protect the lives and property of the Macao compatriots so they can resume their lives and business as soon as possible.
Streets in Macao were piled with smelly garbage after the typhoon flooded much of the city. Local residents fear the garbage will spread disease if it cannot be cleaned up promptly.