Soldiers compete in Safe Environment event at army games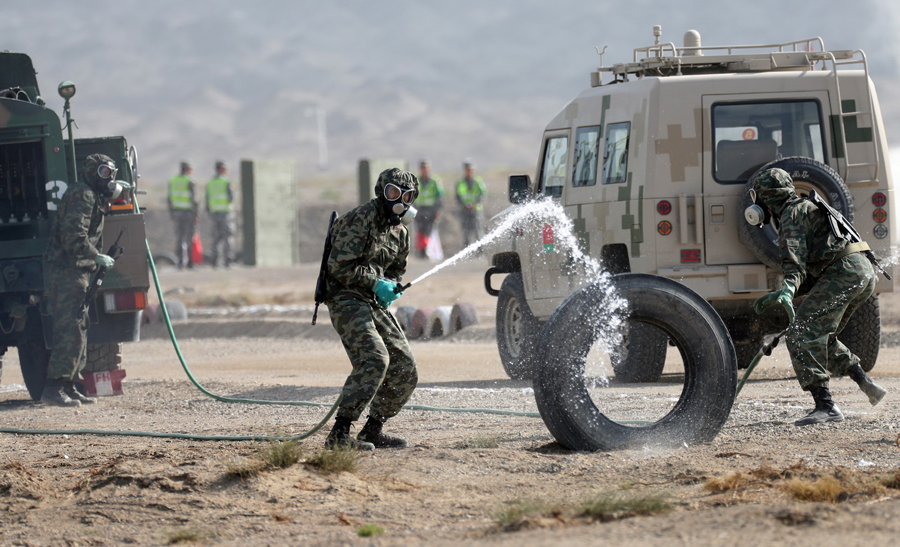 A soldier uses a hydraulic gun to flush out a "chemically contaminated substance" at the Safe Environment event of the International Army Games 2017 in Korla, Xinjiang Uygur autonomous region, Aug 2, 2017. [Photo by Zou Hong/CHINA DAILY]
The Safe Environment event of the International Army Games 2017 began today in Korla, Xinjiang Uygur autonomous region.
Chemical, biological, radiation and nuclear reconnaissance units of military forces from five countries, including China, Russia and Iran, battled to see which team is the fastest when turning an extremely dangerous environment into a safe one.
Each team sent out two crews to compete in the individual race. Each three-member crew, in protective gear and gas masks, drove a China-made Warrior SUV through an obstacle course while carrying out tasks, including identifying toxic substances and detecting radiation sources.
The two crews from the CBRN reconnaissance units of the People's Liberation Army's Ground Force took first and second place after the individual race. They nicknamed themselves the "The Exorcists".
"We used much less time in identifying toxics than the foreign teams, despite the heat on the Gobi Desert today that made the test more difficult," said Gao Pan, driver of a crew. The surface temperature of the Safe Environment course reached 50 C during the race.
The IAG 2017, which will conclude on Aug 12, is comprised of 28 events held in Russia, China, Azerbaijan, Belarus and Kazakhstan. Some people call the comprehensive games the military Olympics.
Most of the events held in Korla will be broadcast live on TV and social media. Local spectators are invited to watch the heated military competitions at the venues for free.