China completes Beijing-Xinjiang desert freeway sections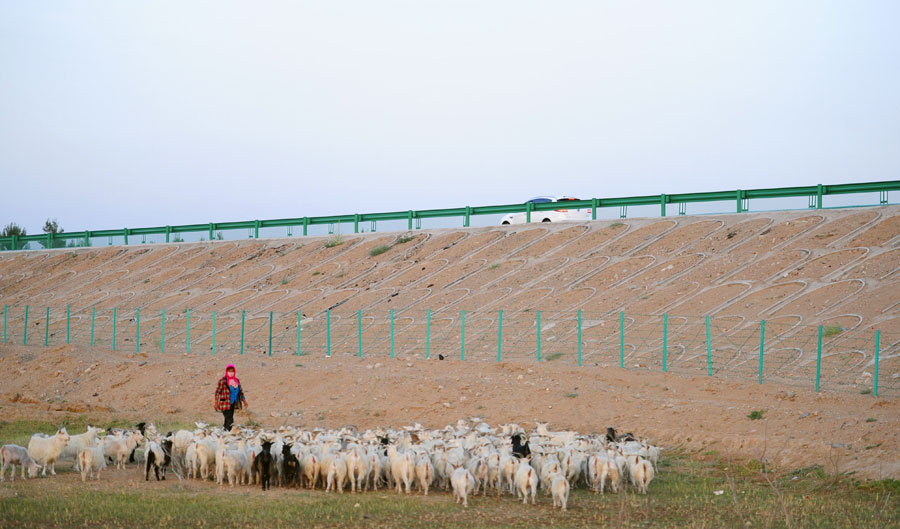 A flock of sheep were seen beside the Jingxin Expressway (G7) in Bayan Nur City, North China's Inner Mongolia autonomous region, July 14, 2017. The Jingxin Expressway links Beijing, capital of China, and Urumqi, capital of Northwest China's Xinjiang Uygur autonomous region. [Photo/Xinhua]
BEIJING -- Three new sections of freeway, mostly in desert areas, were put into use on Saturday, marking the completion of a freeway between Beijing and northwest China's Xinjiang Uygur Autonomous Region.
The three sections in Inner Mongolia Autonomous Region, Gansu Province and Xinjiang have a combined length of more than 1,200 km, bringing the total length of the Beijing-Xinjiang freeway to about 2,768 km.
"The Beijing-Xinjiang freeway is the most convenient road passage connecting Beijing with northwest Inner Mongolia, northern Gansu, and Xinjiang," said Ren Jinxiong, an official with the Ministry of Transport.
With a length of 930 km, the Inner Mongolia section is the longest freeway project in China. The Gansu section is 134 km long and the Xinjiang section is 178 km long.
The three sections are mostly located in deserts with poor natural conditions and little water, posing a challenge to the road builders.
The Beijing-Xinjiang freeway is one of seven freeways connecting the national capital with other major cities, according to a national freeway plan.
By the end of 2016, China had 131,000 km of freeways in operation, more than any other country.