Husbands find solace away from shopping in Shanghai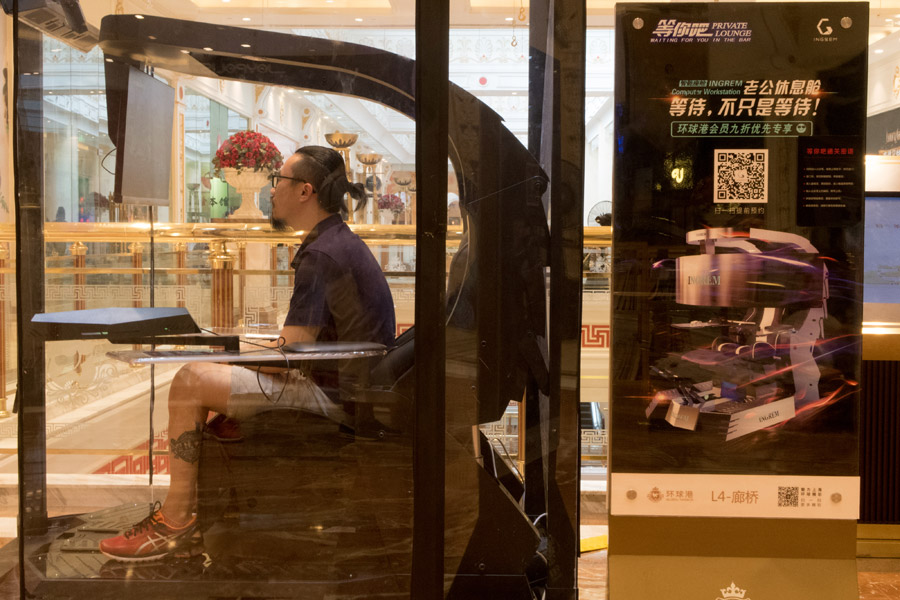 A man sits in a cabin equipped with computers and digital gadgets at a shopping mall in Putuo district, Shanghai. [Photo/chinadaily.com.cn]
Four cabins equipped with computers and digital gadgets have been added to a popular shopping mall in Shanghai for a month, where husbands and boyfriends can rest while their wives or girlfriends shop.
The Global Harbor shopping mall in Putuo district said such facilities have been popular among its customers. They are currently free and a better version will be introduced later this year. However, the shopping mall will charge for the service in the future.
Men generally applauded such facilities while women aired diverse responses.
"I think it's a creative way for my husband to take a break from shopping, which men are often not interested in. It's totally fine if he plays games there for half an hour while I'm trying on dresses and I don't need his opinions," said Li Ting, a 35-year-old stay-at-home mother in Shanghai.
However, 29-year-old primary school teacher Ding Wen said it's unacceptable to see her husband sitting there playing computer games if he chose to go out with her for a date.
"Whether it was a decade ago when we started a love relationship or it's now when we already have a three-year-old son, I always believe we should take the quality time we spend together seriously," she said.