Investors rush to develop rental housing as Chinese home prices surge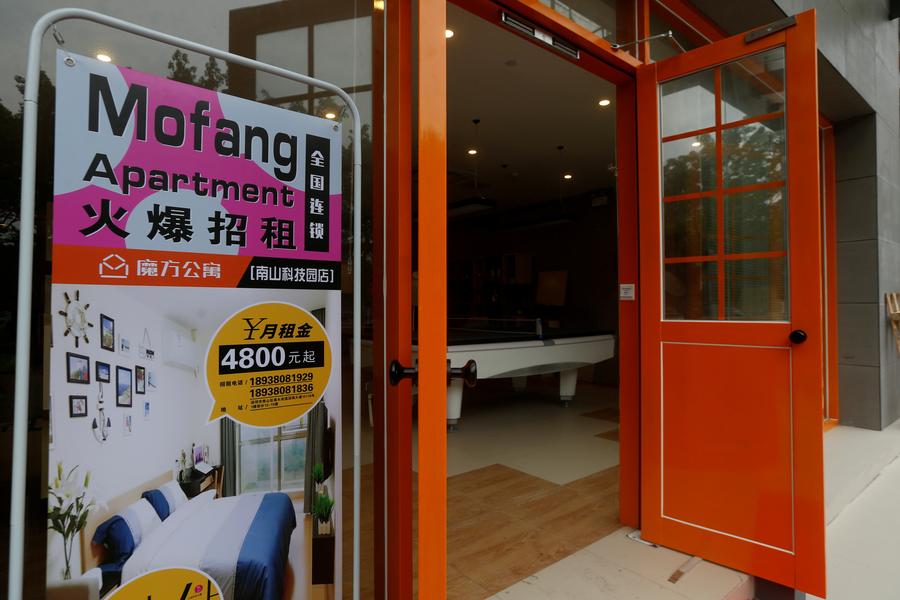 An advertisement is displayed at the entrance of a so-called youth apartment by Chinese developer Mofang Apartment in Shenzhen, China April 26, 2017. [Photo/Agencies]
China's sky-high apartment prices and its footloose generation of millennials are fuelling demand for rental apartments, driving investment by foreign private equity funds and Chinese real estate developers.
The country has been very much a home-owner's market since opening up to the outside world in the 1980s and its home ownership ratio is now one of the highest in the world at about 90 percent.
But that is beginning to change as home price gains far outpace income growth, making the prospects of buying a home an increasingly distant dream for many young Chinese. Newer generations of tech-savvy workers also want to be able to move quickly without being tied down by a property if a better job opportunity opens up in another city.
A typical two-bedroom new home in Beijing costs around 6 million yuan (674,155 pounds), about 69 times the average per capita disposable income in the city, much higher than the ratio of less than 25 times for New York City. It is a similar tale in many of the largest Chinese cities, such as Shanghai and Shenzhen.