Dinosaur enthusiasts find their paradise at Zigong Dinosaur Museum
Dinosaur fans can entertain their eyes with various dinosaur fossils at Zigong Dinosaur Museum in Zigong city, Southwest China's Sichuan province, the first of its kind in China.
Built on the well-known "Dashanpu dinosaur fossil site" about 11 kilometers northwest of Zigong, the dinosaur museum is one of the world's three largest dinosaur museums, the other two are respectively the Dinosaur National Monument in the US and Dinosaur Provincial Park in Canada.
Covering an area of more than 66,000 square meters, the museum boasts a collection of nearly all known dinosaurs from the Jurassic Period, which was 205 million to 135 million years ago. The museum is reported to exhibit one of the biggest collections of Jurassic dinosaur fossils in the world.
"Zigong is known as the dinosaur kingdom in Asia, where more than 170 dinosaur fossil sites have been found," said Dong Yi, who is responsible for publicity at the Tourism Development Commission in the city.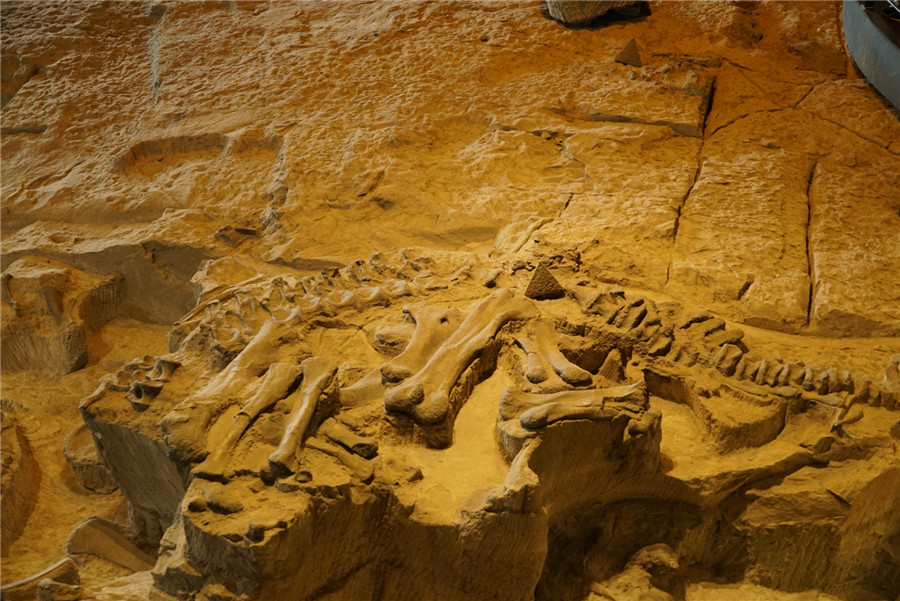 Dinosaur bones are on display at Zigong Dinosaur Museum in Zigong city, Southwest China's Sichuan province, on April 26, 2017. [Photo by Hu Zongming/ provided to chinadaily.com.cn]