Chinese Spring Festival celebrated around the world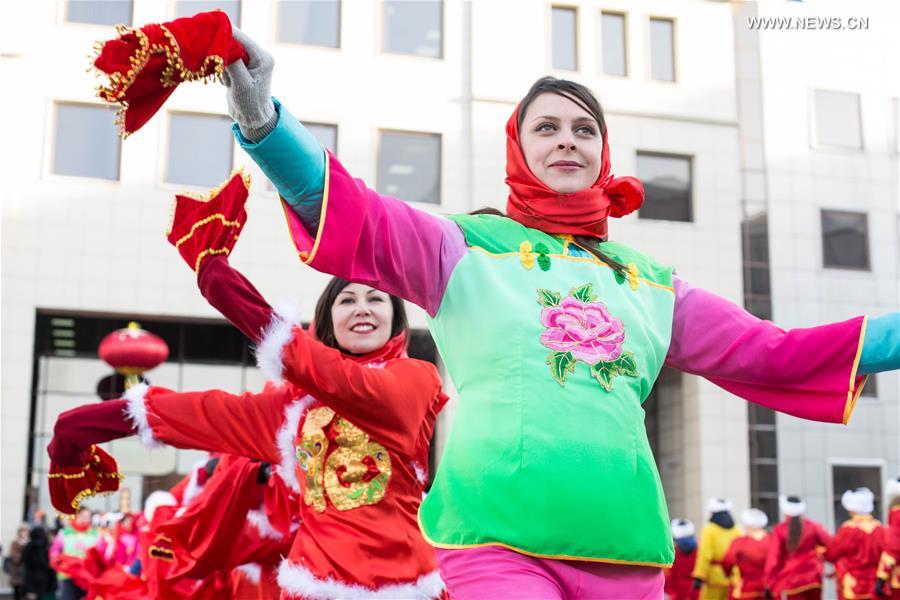 Russians and Chinese perform Yangko during a celebration for the upcoming Chinese Lunar New Year at Greenwood Park in Moscow, Russia, on Jan 26, 2017. The Chinese Lunar New Year falls on Jan 28 this year. [Photo/Xinhua]
BEIJING - On the eve of the approaching Chinese Lunar New Year, the rest of the world is sharing the joy and excitement of the Asian country, a manifestation of the worldwide influence of China's most important festival, also known as the Spring Festival.
OCCASION FOR STRENGTHENING TIES
Some national leaders, on the festive occasion, expressed wishes for a stronger bilateral relationship.
British Prime Minister Theresa May on Thursday sent her wishes to those celebrating the festival worldwide through the government's website, pledging to further develop Britain-China relations, which have a stronger basis than ever before.
"We receive more Chinese investment than any other major European country. We've got around 150,000 Chinese students studying here and the number of Chinese tourists visiting has doubled in five years," she said.
As 2017 marks the 20th anniversary of the return of Hong Kong to China and the 45th anniversary of the establishment of the ambassadorial relations between Britain and China, May said she hoped both countries will further their ties in various fields.
Nigerian President Muhammadu Buhari also expressed optimism over the strategic partnership between Nigeria and China, noting the two countries had reached a consensus to give full play to corresponding development strategies, strong economic complementarity, and enormous cooperative potential.
The Chinese Lunar New Year celebration emphasized the concept of family and the opportunity of reunion -- values shared by both Nigeria and China, Buhari wrote in a recent statement released by his office.
During a meeting with young Sinologists in Saint Petersburg University, the city's Vice Governor Alexander Govorunov said that Russia-China education cooperation has showed a positive trend, with 250 agreements signed between various universities of the two countries.
St. Petersburg needs to expand its knowledge regarding the Chinese language, culture, economics, law and tourism to further relations with China, Govorunov said at the meeting, which was part of a series of month-long cultural events the city hosts in celebrating the Spring Festival.