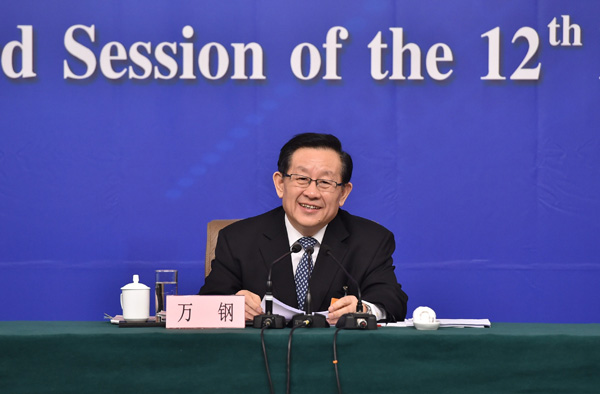 Wan Gang, Minister of Science and Technology, speaks at a press conference on the sidelines of the two sessions, March 11, 2015. [Photo/Xinhua]
The government will no longer be involved in the management of science programs, instead leaving them to professional institutions in a move to further promote reform in science and technology, China's science minister said on Wednesday.
Wan Gang, Minister of Science and Technology, said each and every science program will be considered by a special review committee.
He said research results will have to be released to the public before being integrated into the country's science system.
China's State Council issued a reform plan in January on State scientific research funds administration, changing the government's role from that of sponsor to supervisor.
The government will hand fund allocation to third-party professional institutes, according to the plan.
Under the current system, the government has the power to both distribute state research funds and supervise their use, which can lead to corruption.
With the reform, projects will be approved based on research in five categories, including issues for state consideration, the natural sciences and key national research of benefit to society.
A council will be established to oversee fund allocation, aiming to increase communication among government departments. Members of the council will include representatives of agencies such as the Ministry of Science and Technology, Ministry of Finance and the National Development and Reform Commission.
At present, each government section manages its science research projects separately. This could lead to research being conducted simultaneously, due to a lack of communication, thus wasting research funds.