Luo Yunlian, 44, lives on the edge of a precipice.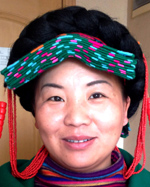 Luo Yunlian
Born and raised in Gulu, a cliffside village in Sichuan province, Luo and more than 300 other villagers - mostly members of the Yi ethnic group - have mastered the skill of using ladders to descend the 800-meter cliff.
The only path to the outside world runs along the fast-running Daduhe River, and is often inaccessible.
The name of the village derives from the noise rocks make as they roll down the steep slope.
The earliest ladders were made from wooden sticks and vines, said Luo, Party head of Gulu and an ethnic Yi deputy to the National People's Congress.
"People were like monkeys, swinging on the ladders," she said. "When you step on the ladders, you can hear the wood squeaking under your feet and you can see the angry river below."
Luo said people carried piglets to the village to breed them, but later found they could not sell the adult pigs because no one could carry a grown pig down the ladders.
In 2003, the local government carved a zigzag path into the rock. The locals named it "the mule path", because it enabled them to use mules to transport goods and personal items for the first time.
However, Luo said it takes the villagers at least three hours to reach the nearest county via the path, whose narrowest section is just 40 centimeters wide. "It's still too dangerous, especially for children who use the path to walk to school," she said.
Luo asked for more funds to build roads in the mountainous terrain of southwest China at the annual session of the NPC in Beijing.
She said 43 of the 80 houses in the village were seriously damaged by an earthquake in 2013, but reconstruction has been slow because the materials can only be carried by mules.
"We need a road," she said. "Not just for us to get out, but also to allow us to invite people to visit."
Luo said the spectacular forest landscape already attracts a number of tourists. Last year, handrails were set up on the mule path, and a public toilet was built along the path for the use of the growing number of visitors.
Villagers have traditionally made a living by growing pepper and walnuts on the steep slopes and then walking for several hours to the market to sell them.
If tourism also provided incomes, then the locals' backbreaking lives would be changed forever, she said.