Editor's Note: As an important foundation of a modern nation, ruling the country by law has been made a top priority by the government. To make every Chinese "bask in the sunshine of fairness and justice", numerous people have made their contribution. Among them are lawyers, judges, journalists, and scholars. Here, we take a look at some of them who have left their mark on China's road to justice.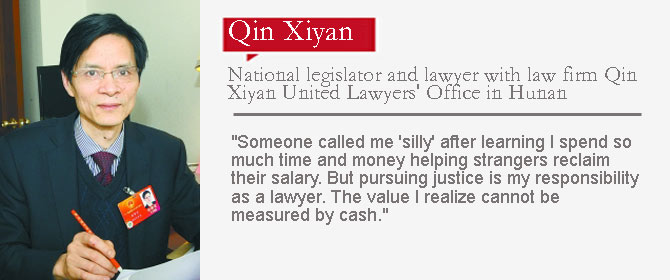 "I can finally pay my son's tuition, thanks!" Deng Jiangzheng, a farmer-turned worker emotionally told lawyers who had helped him get his delayed salary.
"More than one hundred complaints were sent to our office every day in the early years after we provided a free service on payment disputes," said Qin Xiyan, a lawyer in Hunan province and a deputy to the National People's Congress, China's parliament.
Since 2003, Qin's law office has helped some 20,000 farmer-turned workers recover more than 200 million yuan ($32 million) in delayed payments.
"Someone called me 'silly' after learning I spend so much time and money helping strangers reclaim their salary," said Qin. "But pursuing justice is my responsibility as a lawyer. The value I realize cannot be measured by cash".
As both a professional lawyer and a national legislator, Qin has been calling for tougher action against malicious payment delays.
At the 2010 NPC annual session, Qin presented a motion suggesting holding employees who delay workers' salary criminally responsible.
His motion was passed and the amended Criminal Law came into force the following year.
"I am glad that the number of cases of delayed payment we have handled over recent years have dropped," he added, citing greater government efforts to crack down on the offence and raised awareness of migrant workers' use of legal tools to solve disputes.
But more effort is still needed, he said.
At this year's NPC session, Qin will propose abolishing a rule in existing Criminal Law that acquits an employer who withholds a worker's salary once the delayed wage is paid before a lawsuit is filed. Once passed, the law is expected to better protect worker's rights from being infringed.