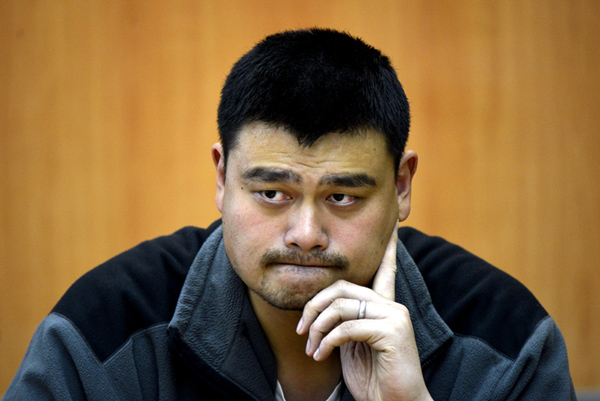 Yao Ming, former basketball player. WEI XIAOHAO/CHINA DAILY
Basketball legend Yao Ming is arguably both the tallest and the highest-profile political adviser in the country, and his views on sports development always attract attention.
Yao has become a focal point at the annual session of the Chinese People's Political Consultative Conference since being elected to its National Committee in 2013.
Whenever he appears during the session, he stands out among fellow members with his towering 2.26-meter frame, and reporters mob him with questions and ask to take selfies with him.
However, the former National Basketball Association All-Star center says the attention makes him uncomfortable.
"This is a serious occasion, and our proposals and social issues should matter more than who is the star," Yao told China Daily on Sunday.
"It's natural that members from sports and entertainment circles attract more headlines than others, but it's important as well to pay equal attention to their suggestions, rather than taking photos and ignoring what they say."
Since retiring from basketball in 2011 because of a foot injury, Yao has become a university student and set up a wine business to go with owning the Chinese Basketball Association's Shanghai Sharks franchise.
The Shanghai native became involved in political affairs after joining the local advisory body to Shanghai's legislature in late 2011, and was then recommended for the CPPCC's National Committee.
"We have come here to make suggestions about important issues to the government," he said. "It's important to prepare yourself through investigation and study, and to dare to speak your mind even if you sometimes go against the consensus."
As "Member Yao" instead of "Boss Yao" at his club, the 34-year-old has set an example by the way he performs his duties as a political adviser, and his views have won government support.
At last year's session, Yao submitted a proposal calling for the scrapping of the requirement to obtain administrative approval for sports events as a way of boosting the market. In October, the State Council issued a regulation that ended the need to obtain approval for events and loosened State control of the sports market.
Lyu Xinhua, a spokesman for the CPPCC National Committee, said: "Yao's proposal was adopted by the government very quickly. It's a typical example of how a member of the CPPCC participates in discussions over State affairs and functions."
However, Yao downplayed the part he played in drawing attention to the issue.
"It was beyond my imagination that it (the proposal) would be introduced so quickly," he said. "But I think it had little to do with who I am, as there had been growing demand for this action to be taken. I just gave it a final push."