In her view, they don't fit with capital's image as international city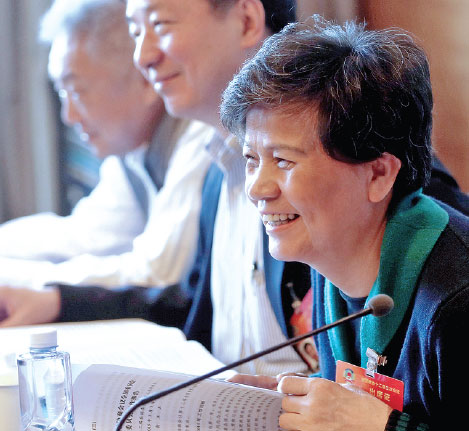 Xu Lin, a member of the CPPCC National Committee and director-general of the Confucius Institute headquarters, or Hanban-China's overseas Chinese-language teaching program - takes part in group discussion of the Government Work Report in Beijing last week. Zou Hong / China Daily
Beijing's big Chinese-character slogans, seen at many intersections and subway stations, have been criticized as creating confusion about the city's international image.
Adding to the confusion are the many foreign-language signs, mostly in English, that include mistakes, wrong information or words that might be misunderstood, said Xu Lin, the director of China's overseas Chinese-language teaching program who is among the nation's political advisers now meeting in Beijing.
Slogans painted in Chinese in public places stem from the political campaigns of half a century ago. They are usually ideologically charged and don't fit Beijing's current identity as an open, dynamic international city, said Xu, director-general of the Confucius Institute headquarters, or Hanban, and a member of the National Committee of the Chinese People's Political Consultative Conference.
Xu, a scholar who has earned honorary titles from universities in many countries, said Beijing's slogans don't contribute to a good environment because they don't paint an international image true to the change in the Chinese people's everyday lives.
China's image depends heavily on Beijing because it is host to more than 100,000 foreign residents, more than 4.2 million overseas visitors, and many multinational corporations and international businesses.
"Some of my foreign friends have said they felt uncomfortable seeing the red banners painted with words that have different, if not negative, connotations in their home countries.
"Others have pointed out such confusing slogans seen in public as 'Chinese Dream, Subway Dream'. Posters and banners of this sort don't help others understand Beijing and the country," Xu said.
Even worse, she added, some slogans send wrong messages, failing to convey the message about the freedom and democratic rights that the Chinese people have. Some of them even "make China appear as if it is a country pursuing international hegemony," Xu said.
She proposed that the Beijing municipal government should make rules and offer guidance regarding posters and banners in public places, phasing out those that are highly ideological or confusing. "We should learn from the successful experience of other international cities in the world."
Alistair Michie, adviser of the Foreign Experts Advisory Committee under the State Administration of Foreign Experts Affairs, said he agrees that the Beijing municipal government should improve the ways it boosts the city's image and communicates with the city's foreign residents and visitors.
"I have often thought that the use of campaigns in English to promote 'core socialist values' leaves a negative impression among foreign visitors," Michie said. "Those words make no sense to foreigners because they do not understand the context."
"Beijing, like China, has a great story to tell - but the lack of clever and creative communication means that foreigners cannot get to know the reality," Michie added.
Ding Junjie, a professor with Communication University of China, said the problem is not only about slogans but, more important, about the way to express and communicate China's political ideas.
"The root cause lies in communication skills," Ding said. "Some people simply use goals as content. For example, 'to build a harmonious society' is a goal, but you have to tell a story to convey this idea instead of simply putting those words on a banner."
Michie added that the Chinese capital should adopt a new approach to showcasing its qualities and attracting an overseas population.
"The municipal government should recruit a team of foreigners and let them advise it about what overseas visitors may be interested to learn," he said. "And that may be vastly different from what may appeal to domestic tourists."
Additionally, Michie said, "Greater attention is also needed in using foreign languages properly."
suzhou@chinadaily.com.cn