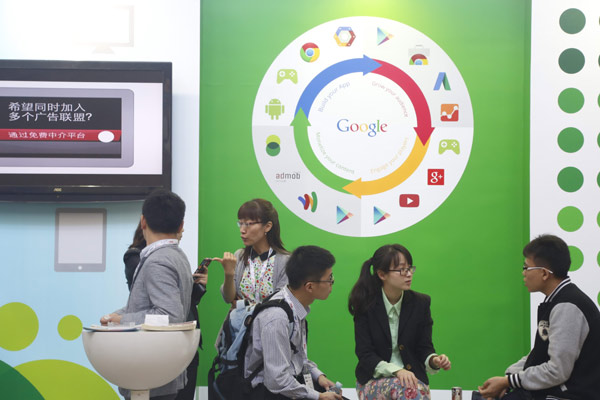 The Google Inc stand at a mobile Internet expo in Beijing. The search provider has started to allow app developers in China to sell items through Google Play. [Photo / Provided to China Daily]
BEIJING - Zhang Hao is a "chuangke" (maker), a group described by Premier Li Keqiang in his government work report on March 5, as "coming thick and fast."
The rise of China's makers is a result of government efforts to restructure industry to identify new drivers to boost the slowing economy, according to Li's report.
Makers are hands-on technology enthusiasts who use 3D printers, robotics, and other advanced tools to create pervasive products.
By using the word chuangke, Zhang said, makers have been marked out as more than just a creator, inventor or innovator. As the word has an entrepreneurial slant to it.
Entrepreneurship was also underscored by Li in his report, he said that paired with innovation these "twin engines" would drive development.
"Some makers are hobbyists, while others like me have a dream to realize," said Zhang. "I want to make a robot cat that can serve you tea and do the laundry. It will be even cheaper than a car so every family can afford one."
MORE THAN HONORABLE MENTION
Although the word chuangke appeared only once in the premier's work report, it is far more than an honorable mention.
During his inspection tour to Guangdong Province in January, the premier visited Chaihuo, where he was attracted by a robot that could roll over and had a robotic arm, its software had been made by young makers.
"Makers show the vitality of entrepreneurship and innovation among the people, and such creativity will serve as a lasting engine of China's economic growth in the future," Li said at Chaihuo.
"I will stoke the fire of innovation with more wood," Li said, adding that people with workable creative ideas should be helped to set up their own businesses.
The government will establish a platform to offer low-cost services to innovative micro businesses and individual start-ups, according to a statement released after an executive meeting of the State Council presided over by Li Keqiang in late January.
Liu Dezhi, head of Chaihuo Makerspace, said makers hoped that they would help shift the perception of China products from "Made in China" to "Made by China".