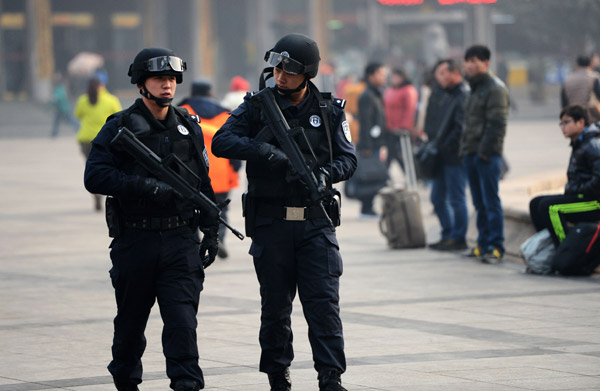 Police officers patrol a public square near the Zhengzhou Railway Station in Henan province in January. [Photo by Xiang Minghao/China Daily]
BEIJING -- As terrorist attacks are proliferating around the world, all countries need to cooperate, rather than show prejudice, in a bid to squeeze the breeding ground for terrorism.
At a press conference on Sunday, Chinese foreign minister Wang Yi said China has always been an active participant in international cooperation against terrorism.
In a globalized situation, weapons, funds and terrorist ideologies are spreading across borders and continents, so that no country can enjoy immunity from terrorist attacks. As the threat increases, there is a pressing need for international cooperation.
China is playing an important role in the anti-terrorism drive. It is a key signatory of the Shanghai Cooperation Organization's (SCO) Convention against Terrorism, Separatism and Extremism.
The country is also a victim of terrorism. The East Turkestan Islamic Movement is a clear and present threat to China's security. China and SCO countries have held joint military drills to seek countermeasures against the group.
However, due to the prejudice originating from different ideologies and political systems, China's efforts have sometimes been misinterpreted.
In March last year, terrorists attacked a railway station in the capital of South China's Yunnan Province, killing 29 and injuring 141. But some foreign countries were reluctant to define the incident as a terrorist one. Instead, they characterized it as a symptom of "ethnic conflict".
It was the same story after a series of terrorist attacks in Kashgar of Xinjiang Uygur Autonomous Region. China's joint military drills have also sometimes been interpreted as saber-rattling to warn off neighbors.
Those countries use double standards on terrorism, linking the campaign against terrorism in China to ethnic issues, or interfering with other countries' domestic issues on the pretext of anti-terrorism. These attitudes run counter to the need for a united global front against terrorism.
China has said on several occasions that it is willing to cooperate with other countries against terrorism under the principle of mutual respect and equal cooperation. However, no cooperation can be achieved if countries forcibly promote their political values in the anti-terrorism war.
Only with sincerity in cooperation can the international community come together to prevent terrorism.