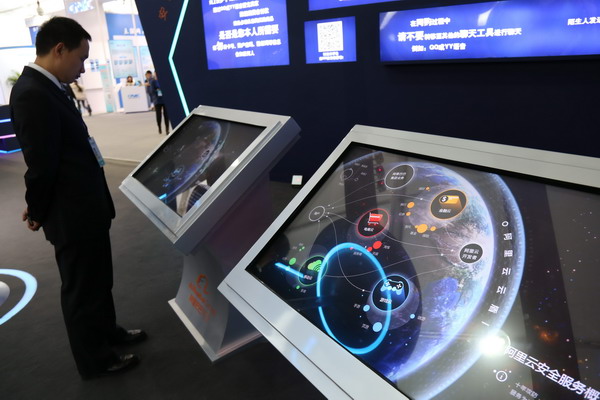 A man looks at Aliyun cyber security services, platform provided by Alibaba, which is shown at a cyber security exhibition on Nov 24, 2014. [Photo by Wang Yueling / Asianewsphoto]

China should speed up its own research and development in Internet technology to secure cyberspace, said a senior official.
Shang Bing, vice minister of China's Ministry of Industry and Information Technology, said we should gradually adopt our own technology in the organs of the party, government and military, including our own operating system.
"In my opinion, it is impossible for us to make sure everything we use in daily life is made in China," said Shang. "I think we should have different rules in different cases. The first step is to make sure we have our own information technology in the systems of the party, government and military."
Shang said the cyberspace security issue is still alarming after Edward Snowden's revelations in 2013.
Snowden, a former US National Security Agency contractor, made headlines when he leaked top secret information about the agency's surveillance activities, including hacking into major US tech companies that are doing business in China and other parts of the world and forcing them to willingly and unwillingly collaborate in the NSA's surveillance program.
The NSA has also hacked into Chinese universities and telecom corporations, according to Snowden.
Li Guojie, an academic at the Chinese Academy of Engineering, said information systems matter a lot to national security, and yet the market in China is dominated by overseas enterprises.
"We should establish strict review on the market-access system," said Li.
Ni Guangnan, another academic at the Chinese Academy of Engineering, said one key measure to secure cyberspace is to increase the market share of Chinese software, hardware and services.