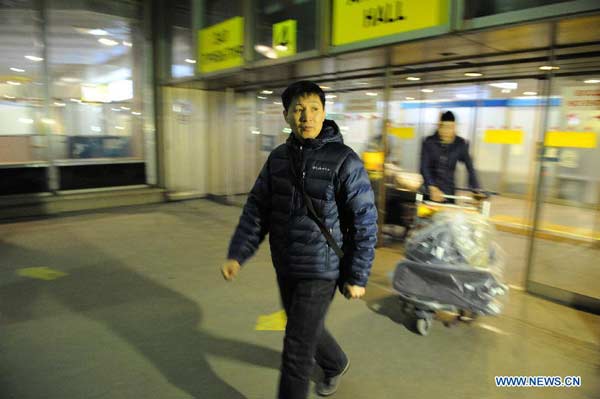 Chinese passengers walk out of the Sheremetyevo airport after being released in Moscow, Russia, March 7, 2015. [Photo/Xinhua]
BEIJING - China will do everything possible to protect the legitimate rights of its citizens overseas, Foreign Minister Wang Yi said Sunday at a press conference on the sidelines of the annual session of the National People's Congress.
Last year, Chinese people made more than 100 million outbound visits. There are over 20,000 Chinese enterprises doing businesses overseas, as well as millions of Chinese nationals working and living in different parts of the world, the minister said, adding that China is concerned with all their safety and well-being.
The Foreign Ministry has set up an around-the-clock hotline to provide consular protection services for Chinese nationals. They could dial 12308 if they need assistance, the minister said.
Chinese embassies and consulates have received more than 30,000 phone calls worldwide for half a year since the hotline was opened, he said.
Wang also said that China and Canada just reached an agreement on granting visas to each other's citizens, with the validity period of up to 10 years.
The new visa policy will take effect on Monday, the minister said.
Many people are enjoying convenience raised by the China-U.S. visa reciprocal arrangement, he said.
Last year, he said, China signed visa exemption or facilitation agreements with 24 countries, equal to the total number in the past four years. Chinese passport holders now can travel to more than 50 countries and territories without applying for visas or by obtaining visas upon arrival.
It is more convenient now for people with Chinese passports to travel overseas whenever they wish, Wang said, hoping their trips easier and safer.