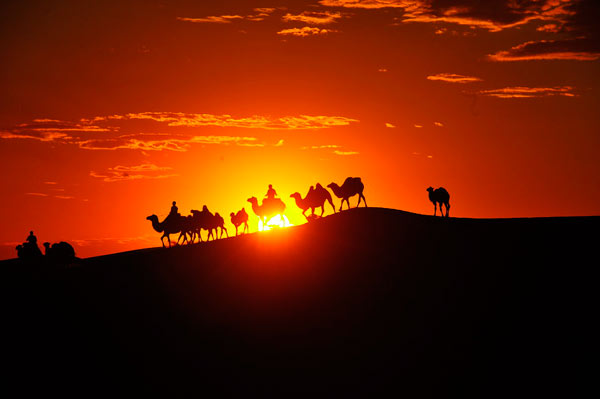 File photo of a desert in Tongliao, Inner Mongolia autonomous region. [Photo/CFP]
BEIJING - China's diplomacy in 2015 will focus on making all around progress in the "Belt and Road" initiatives, said Foreign Minister Wang Yi on the sidelines of the ongoing national legislative session on Sunday.
"The keyword for China's diplomacy in 2015 will be one focus and two main themes," Wang said.
Referring the focus to the progress of "Belt and Road" initiatives, Wang said China will further enhance policy communicating with other countries, expand the convergence of the shared interests and explore possible areas of win-win cooperation.
The priorities will be promoting connectivity, building overland economic corridors and pillars of maritime cooperation, he said.
China will also improve cultural and people-to-people exchanges and speed up talks of free trade areas with relevant countries.
"We are confident that Belt and Road initiatives will win even more supports and deliver even more early harvests," he said.
Two main themes will be peace and development, the minister noted.
China will work with the international community to mark the 70th anniversary of the end of the World Anti-Fascist War and make itself a strong force for peace by learning the lesson from the past and looking towards the future, he said.
The country will also take an active part in the UN development summit and international cooperation on climate change, he said.
China will play a constructive role in helping to secure a post-2015 development agenda and new international arrangements to address climate change, which are in line with the interests of developing countries, he said.
Summing up China's diplomatic progress in 2014, Wang said it is worth mentioning that China focused on building a new type of international relations featuring win-win cooperation and has taken a new path of external relations characterized by partnership rather than alliance.
"We have basically established a global network of partnerships," he said. "China's circle of friends and partners has widened and will continue to expand."
China has established different forms of partnership with more than 70 countries and many regional organizations by 2014.
Wang described the year of 2014 as the one of harvest as well as of forging ahead and breaking ground.
China left its own imprint in the history through successfully hosting the meetings of the Conference on Interaction and Confidence-Building Measures in Asia (CICA) and APEC, while taking an active part in settling international hotspot issues, according to Wang.