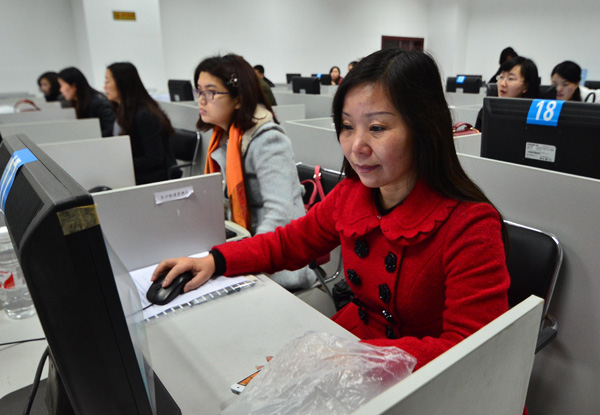 Female staff from maritime affairs organizations concentrate on computers during a training clinic in Changsha, Hunan province. A sedentary lifestyle poses risks, experts say. He Maofeng / for China Daily
"They spend their time in the office, or on the way to and from the office, and when they get back home they are too exhausted to do squats or core training."
Zhou has been giving advice on daily exercise and regular workouts throughout the country in the past few years, in her role as a counselor of the Women's Federation, to better promote women's health in the country.
Zhou said her research over the past few years suggests that people from first-tier cities, including Beijing, Shanghai and Guangzhou, report even less time scheduled for workouts compared with those from less-Hangzhou.
"Professional women should take this as a warning, and not sacrifice their health too much for work," she said.
In addition to raising awareness, companies should come up with a more "workout friendly" office environment to encourage more of their female employees to take up exercise.
"We have been promoting office yoga for a long time, which does not require too much space or too many facilities," said Zhou.
"Exercise involving stretching would help female staff members to better manage their time during work, making them more efficient."
Zhang Qing, founder of sports marketing agency Key-Solution, said proper exercise could reduce some of the hazards of the workplace, by boosting people's immune systems and enhancing their physique.
"Regular jogging and workouts can also help relieve people of possible depression, anxiety and stress disorders caused by the workplace," he said.
Juggling work and family puts additional stress on women, most of who mare still mainly responsible for taking care of the young and old in China's households.
When family and work collide, professional women report mental stress, lack of sleep, fatigue and a higher chance of susceptibility to infection, said Zhou.
According to the 2013 cancer report by the National Central Cancer Registry under the National Health and Family Planning Commission, about 600,000 people suffer from cancer in China every year.
Lung cancer is the most common cancer diagnosed among Chinese men and the leading cause of cancer deaths in China. Among women, breast cancer is the most common and one of the deadliest, the report said.
Chinese pop singer Yao Beina died from breast cancer on January 16 at the age of 33, which has caused intense public concern about the disease.
In addition to giving up smoking and undergoing annual medical checkups, Zhou said regular workouts, which help boost the immune system, also help to protect women againstmany diseases.
Contact the writer at zhengxin@chinadaily.com.cn