Premier says cross-strait project would break Shandong-Liaoning transportation bottlenecks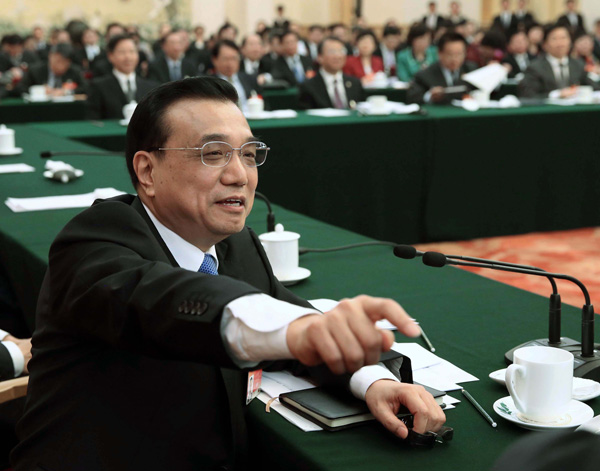 Premier Li Keqiang invites an NPC deputy from Shandong province to give his opinions of the Government Work Report on Friday. Li extended a meeting to hear from Wang Tingjiang (right), who had raised his hand as the meeting was closing. Wu Zhiyi / China Daily
Premier Li Keqiang firmly supports the idea to build a cross-Bohai Strait passage, equivalent to nearly two times the length of the UK's Channel Tunnel, a move to promote regional logistics and encourage investment.
Li, who is a deputy to the Shandong delegation of the National People's Congress, joined the panel discussion on Friday. He called the project - which would link Lushun, Liaoning province, on the Liaodong Peninsula in the north, with Penglai, on the Shandong Peninsula to the south - "a must-have move" to break transportation bottlenecks in the region.
If completed, the cross-strait passage would extend from China's traditional heavy industry hub in the northeast across Bohai Bay, the innermost gulf of the Yellow Sea, and reach East China's Shandong province. It would cut the current travel time between these provinces from more than six hours to about 40 minutes. The passage is designed to be 83 kilometers.
The Bohai Rim is one of China's most important economic areas, with more than 150 cities and a population of 300 million.
Wang Mengshu, a tunnel and railway expert at the Chinese Academy of Engineering, said the passage, together with existing rail lines, would make up an East China transport artery connecting 11 provincial areas of 5,700 kilometers and would have "great economic and strategic significance".
Among three cross-strait projects being researched - the cross-Bohai Strait passage project, a cross-Taiwan Straits project and a cross-Qiongzhou Strait project - the cross-Bohai Strait passage project would be the largest, with a planned investment of 300 billion yuan ($48 billion), Wang said.
Wang, who is also an NPC deputy and submitted a proposal urging an early start for construction of the passage, suggested building tunnels in the north and bridges in the south to cross Bohai Bay.
The National Development and Reform Commission, the country's top economic planning body, started the feasibility research for the cross-strait project last year.
Shandong ranked third in China's provincial areas in terms of economic growth last year with 8.7 percent, which the premier called an "outstanding achievement".
"Although the eastern part of the peninsula is prosperous, residents in western Shandong, especially those along the Yellow River, are still living with difficulties," Li said.
Li described the unbalanced development between the coastal eastern and the inland western parts of the province as a microcosm of the Chinese economy.
On Thursday, Li proposed lowering the economic growth target this year to "approximately 7 percent", scaling down expectations in the face of what he called "formidable" difficulties for the world's second-largest economy after a decades-long boom.
Reform, as well as the diligence of the Chinese people, will be crucial to shoring up China's economy, the premier said. The great resilience and potentials of the Chinese economy are evident in the increasing number of new jobs created against the backdrop of declining economic growth, Li said.
zhaoyinan@chinadaily.com.cn