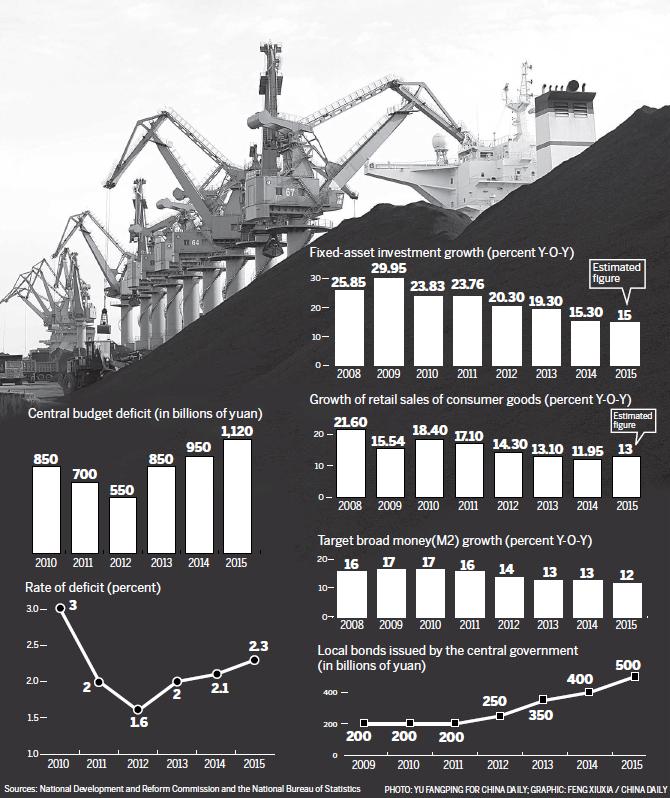 The government's work report emphasized the need for stability as growth slows and economic restructuring becomes the main priority for the nation's officials, as Chen Jia reports.
China's leadership has highlighted the need for maintaining reasonable growth as a precondition for the new normal stage of economic development, as the government faces what is potentially the most critical period since the 2008 global financial crisis.
Given the increasing downward pressure, meeting the government's new growth target of 7 percent, compared with last year's target of 7.5 percent, may prove difficult to achieve. Official expectations for the inflation rate also retreated from 3.5 percent to 3 percent, indicating weak domestic demand.
The government's annual work report signaled that macro policy could be more flexible this year to deal with an unexpectedly sharp deceleration in GDP growth, while structural reform should make marked progress, and a bottom line must be established to avoid problems, especially in the labor market.
In late February, the People's Bank of China, the central bank, lowered the one-year lending and deposit interest rates by 25 basis points. The move came earlier than expected, and many observers had predicted the cuts would be announced after the release of the main economic indicators for February, when some analysts foresaw Q1 growth coming in under target.
The pace of GDP growth should decline, as a result of the painful transformation of the economic growth model, but there is still a limit, economists said. The NPC meeting centered on three main themes: supporting growth; risk reduction; and rebalancing. A number of analysts said a more specific reform agenda will be outlined after the conclusion of the two sessions.
Since the Party's Third Plenum in late 2013, notable progress has been made in key areas, such as reform of government administration, plus changes to budgetary and fiscal policy, prices, the financial sector and the social safety net.