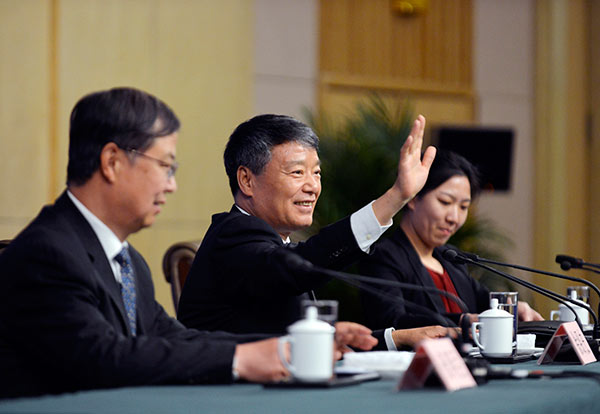 Xu Shaoshi, minister of the National Development and Reform Commission, or NDRC, waves towards attendees before taking questions from journalists during a news conference on March 5. [Wei Xiaohao / chinadaily.com.cn]
The National Development and Reform Commission (NDRC) sets out major economic and social development tasks in 2015 in a work report released at a press conference on Thursday.
Xu Shaoshi, minister of the NDRC, said the ministry will carry out work to boost domestic demand to give a stronger impetus to economic growth and accelerate economic structural reforms.
Talking about the economic situation and macro-economic control at the conference at the two sessions, Xu said the ministry will deepen reform of government review and approval and press ahead with reforming companies and fiscal and tax systems. The ministry will also ensure better financial services for the real economy and deepen reform of investment and financing system, price reform and the reform of rural and land system.
China will extensively implement the strategy of opening up, the report said, adding that the ministry will raise the efficiency and quality of China's outward investment, as well as increase multilateral, bilateral, and regional economic cooperation.
According to the report, the NDRC will accelerate the transformation of agricultural development and promote transformation and upgrading of the industrial structure through innovation. "We project spending on R&D as a percentage of GDP will come to 2.2 percent in 2015," Xu said, adding that the NDRC will boost the scale and strength of strategic emerging industries and make the service sector better able to support economic growth.