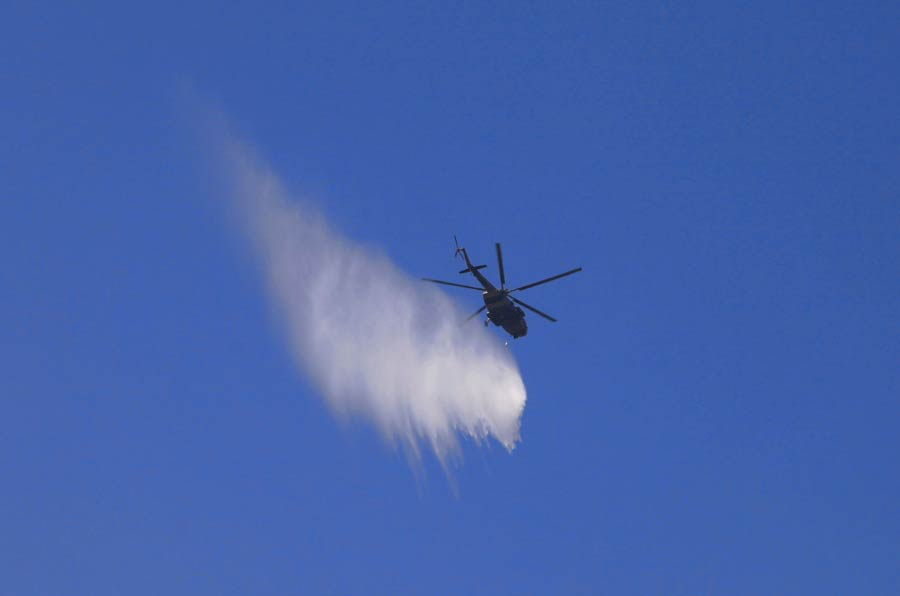 A helicopter helps to fight a forest fire in Weihai, Shandong province, May 30, 2014. [Photo/asianewsphoto]
WEIHAI - Three helicopters were dispatched on Friday to fight a forest fire that has raged in east China's Shandong province since Thursday afternoon, according to local sources.
As of 5 pm on Friday, firefighters were still working to extinguish flames that continued to burn at a few sites, although they have contained the blaze. The fire broke out at about 3 pm on Thursday in a forest in the coastal city of Weihai, said the city government.
The helicopters joined the firefighting operation to prevent the fire reigniting and secondary disasters.
No casualties have been reported and hundreds of locals have been evacuated to emergency shelters nearby.
Nearby roads have been closed and patrollers are warning people not to enter the fire zone.
Residents have been relocated to emergency shelters at Weihai International Exhibition Center and a gymnasium. A total of 813 people had been settled in the exhibition center as of 5:30 a.m. on Friday, according to Miao Jia, deputy chief of the Weihai Civil Affairs Bureau.
Local authorities have prepared quilts, food, drinking water and toilet paper.
More than 2,000 firefighters have worked to contain the fire, with the job complicated by winds of up to 61 km per hour, the city government said.