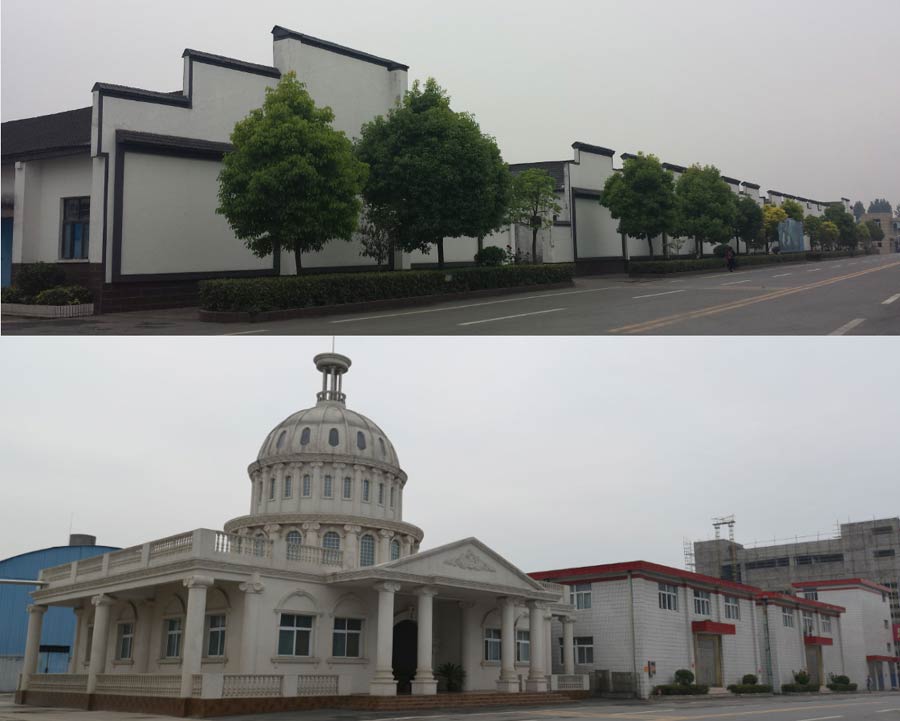 Because many of Anhui Golden Seed Winery Company's buildings look alike, the liquor maker designed the public toilet with a large dome to make it easy to recognize. [Photo by Zhu Lixin/ China Daily]

A toilet in Fuyang, Anhui province, has drawn domestic and international attention, both for its White House-like appearance and its presumably luxurious furnishings, though the real interior of the toilet is quite modest and designed to serve thousands of employees and visitors.
The building, which is located at Anhui Golden Seed Winery Co, a local liquor manufacturing company, and serves as a public toilet, bears a striking resemblance to the official residence of presidents of the United States in Washington, DC.
After the toilet received wide notice online, criticism arose because some people thought the inside must be as opulent as the original White House.
Completed in 2012, the facility covers 418 square meters, with 40 squat toilets and 13 urinals. The building is designed with two corridors to cover the sewers on two sides.
The facility cost the liquor maker a total of 900,000 yuan ($144,090), interior furnishings included, according to the contract with a local construction company.
"We originally had a two-floor toilet building constructed in about the late 1980s or the early 1990s, but it failed to meet the daily needs of our increasing workforce and visiting customers," said Zhang Fan, an executive in the company.
The factory employs 3,910 staff, but toilets are scarce in the workshops, as liquor manufacturing has strict requirements for sanitation.
"We also receive hundreds of visitors across the country every day, some being tourists and others customers. So we needed a larger public toilet," Zhang said.
In 2013, the company received about 100,000 visitors while the number is estimated to reach 150,000 in 2014.
"After hours of riding in buses from other places, many visitors badly need a public toilet when they arrive. But the original one failed to be recognized easily, so we designed a high dome with the new one," said Zhang.
"We want to make the building a little special in appearance, giving the visitors a good first impression; but more important, we emphasize its function as a toilet, so the interior decoration is not so luxurious at all, and the facilities are easy to clean."
zhulixin@chinadaily.com.cn