China, Brazil vow to boost BRICS cooperation
Updated: 2013-09-05 18:40
(Xinhua)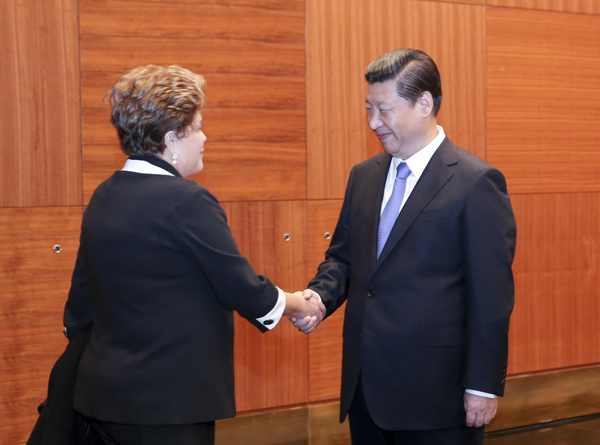 Chinese President Xi Jinping meets his Brazilian counterpart Dilma Rousseff in St. Petersburg, Russia, Sept 5, 2013. [Photo/Xinhua]
ST PETERSBURG, Russia - Chinese President Xi Jinping and his Brazilian counterpart Dilma Rousseff pledged here on Thursday to boost solidarity and cooperation between BRICS countries.
China and Brazil, both emerging economies and members of the BRICS group, should strengthen communication and coordination to oppose trade protectionism, safeguard the common interests of the emerging markets and continue to contribute to global growth, Xi said when meeting with Rousseff ahead of the Group of 20 summit in the Russian city of St. Petersburg.
China supports Brazil in hosting the summit of the BRICS, which groups Brazil, Russia, India, China and South Africa, scheduled next year, Xi said.
China hopes Brazil could continue to exert positive influence in the Latin American region to push for the establishment of a China-Latin America cooperation forum and deepen the comprehensive cooperation partnership between China and the region, he added.
On bilateral ties, Xi said China and Brazil should give full play to their complementary advantages and boost cooperation in such fields as energy, mining, agriculture and infrastructure construction.
For her part, Rousseff said Brazil hopes to strengthen high-level coordination with China and optimize the structure of two-way trade.
Brazil supports Brazilian and Chinese enterprises to carry out strategic cooperation in such fields as oil, logistics and transportation infrastructure construction, she said.
In the face of a weak global recovery, emerging markets including Brazil and China need to beef up communication and cooperation to urge certain countries to adopt responsible economic policies and promote the reform of international financial system, she added.
Brazil is willing to play a role in advancing ties between China and the Latin American region, she said.
The two presidents also exchanged views on the situation in Syria.
Meanwhile, the Brazilian president invited Xi to visit Brazil and attend the BRICS summit next year which marks the 40th anniversary of the establishment of diplomatic relations between Brazil and China.