Xi, Mexican president meet for third time
Updated: 2013-09-05 06:31
(Xinhua)
ST. PETERSBURG - Chinese President Xi Jinping met here on Wednesday with his Mexican counterpart Enrique Pena Nieto on the sidelines of the Group of 20 (G20) summit to be held on September 5-6.
It was the third meeting in this year between the two heads of state. It followed talks held in April on the sidelines of the Boao Forum for Asia in China's southern Hainan province and during Xi's state visit to Mexico in June.
The meeting with the Mexican president was also Xi's first official event after he arrived in St. Petersburg earlier on Wednesday.
During the meeting, Xi said the China-Mexico relationship has entered a new phase, and the consensus reached at the last meeting between the two heads of state is being actively implemented, a process that has witnessed remarkable progress.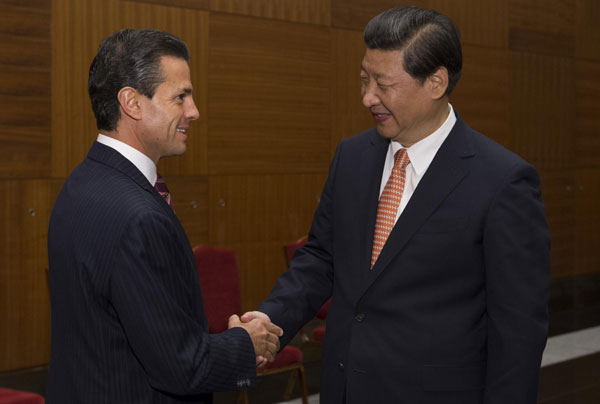 Chinese President Xi Jinping (R) meet on Wednesday with his Mexican counterpart Enrique Pena Nieto in St. Petersberg. [Photo/Xinhua]
Meanwhile, Xi said, the two countries should take solid steps to advance their cooperation in various fields in order to enrich the comprehensive strategic partnership between the two countries.
China and Mexico should focus on expanding two-way investment and deepening cooperation in economy, trade and infrastructure, Xi noted.
The two governments should create better conditions for investment and market access in each other's country, the Chinese president said, adding that he hopes both sides will speed up negotiations on setting up a China-Mexico investment fund.
China is willing to work with Mexico to establish a China-Latin America cooperation forum at an earlier date and to actively advance the comprehensive cooperative partnership between China and Latin America, Xi said.
Speaking highly of bilateral ties, Pena Nieto said relevant government agencies in both countries have been implementing the consensus reached by the two heads of state on deepening cooperation, while new and important achievements have been made in their comprehensive strategic partnership.
The Mexican side appreciates China's efforts to promote bilateral cooperation, and attaches great importance to developing a positive and stable relationship with China, Pena Nieto said.
Mexico hopes to expand two-way trade with China and will take steps to improve market access for Chinese goods in Mexico, Pena Nieto said, adding that his country welcomes more Chinese investment in its infrastructure and other sectors.
Mexico is willing to play a positive role in boosting China-Latin America relations, Pena Nieto said.
The two leaders also exchanged views on the upcoming G20 summit, vowing to coordinate actions, ensure a fruitful summit, safeguard the momentum of the world economic recovery, and increase the voice and influence of emerging economies in global economic governance.
Following their meeting, Xi and Pena Nieto witnessed the signing of a memorandum of understanding of establishing a high-level intergovernmental working group on investment.