2013-08-26 19:45:24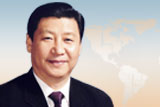 Sept 3 to 13: Pay state visits to Turkmenistan, Kazakhstan, Uzbekistan and Kyrgyzstan.

Sept 5 to 6: Attend the eighth Leaders' Summit of the Group of Twenty (G20) in St. Petersburg.

Sept 13: Attend the 13th Meeting of the Council of Heads of Member States of the Shanghai Cooperation Organization (SCO) in Bishkek, the capital of Kyrgyzstan.