Xi arrives in St Petersburg for G20 summit
Updated: 2013-09-04 22:45
By WU JIAO in St. Petersburg (chinadaily.com.cn)
President Xi Jinping arrived in St Petersburg for eighth Leaders' Summit of the Group of Twenty (G20) on Wednesday afternoon.
The summit, from Sept 5 to 6, is the first multilateral economic summit Xi has attended since he took office in March.
Observers said he will focus on IMF reform, fighting protectionism, as well as briefing fellow leaders on China's economic development.
Vice-Foreign Minister Li Baodong told a press meeting last week that "a key part of the president's deliberation at the summit will focus on the reform of the quota system of the IMF, whereby the emerging markets and developing countries can increase their representation and voting rights in the organization".
The G20 summit will also give Xi an opportunity to discuss bilateral issues with the G20 leaders.
He is scheduled to meet leaders from Russia, the United States and Europe.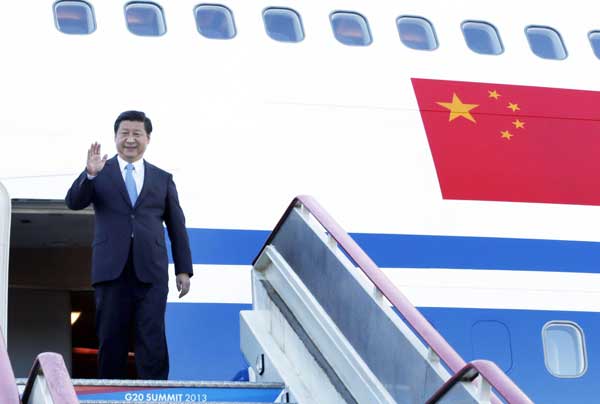 President Xi Jinping arrived in St Petersburg for eighth Leaders' Summit of the Group of Twenty (G20) on Wednesday afternoon. [Photo/Xinhua]