China, Mexico boost relations
Updated: 2013-06-06 01:58
By ZHU ZHE in Mexico City, Chen Weihua in Washington and Cheng Guangjin in Beijing (China Daily)
Countries sign series of agreements on energy, trade and construction
China and Mexico, two of the world's emerging powers, "relaunched" their partnership, strengthening it with the signing of a dozen agreements on Tuesday — the first day of President Xi Jinping's three-day visit.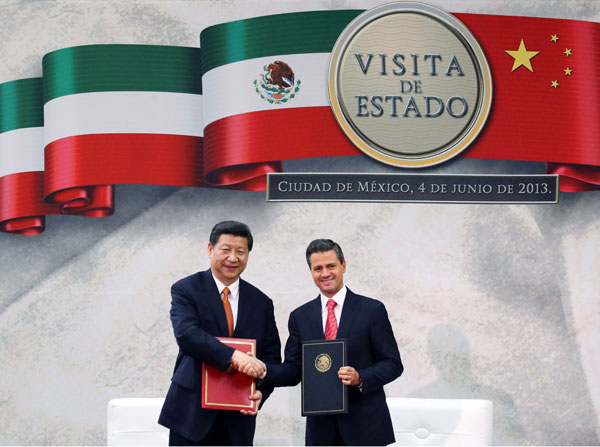 President Xi Jinping and his Mexican counterpart Enrique Pena Nieto celebrate after they signed a joint declaration in Mexico City on Tuesday. Photo by Yao Dawei / Xinhua
Xi said his meeting with Mexican President Enrique Pena Nieto has been fruitful and produced a consensus on many issues.
"Our joint announcement to elevate our strategic partnership to an overall strategic partnership reflects both the reality of bilateral relations as well as shows the direction of their future development," Xi told the media after meeting his Mexican counterpart.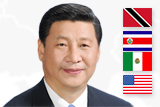 Xi, who last visited Mexico in 2009 as China's vice-president, arrived in Mexico City after touring Trinidad and Tobago and Costa Rica, where agreements to develop ties were also signed. The agreements and memorandum of understanding signed on Tuesday between Mexico and China cover cooperation in energy, new-industry trade, infrastructure construction, mining, trade, education, banking and entrepreneurial exchanges.
Pena Nieto said Xi's official visit to Mexico proves the two countries have reached a high level of friendship, trust and cooperation.
He said he believes China and Mexico will explore additional ways to cooperate, and that Mexico will attract Chinese investment for large projects, including in energy and infrastructure.
FACT BOX
The two leaders agreed on the following issues:
1. The Mexican government will set up a special trade office to facilitate bilateral cooperation.
2. The two countries will jointly hold the 9th China-Latin America Business Summit.
3. A working team on new-industry trade cooperation between the two countries will be established.
4. The National Autonomous University of Mexico will join with Beijing Foreign Studies University to set up a Mexican cultural center in Beijing.
5. China will open a Chinese cultural center in Mexico City — the first such facility in Latin America and the Caribbean region.
6. China will offer summer camp vacations to 100 Mexican children this year, and will provide 100 scholarships to Mexican students each year for the next three years.
7. China will import more Mexican products, including pork and tequila.
Pena Nieto, who took office in December, visited China in April to attend the Boao Asia Forum in Hainan province, where he met Xi.
Trade between the two countries was $36 billion last year, more than seven times what it was in 2003, when China and Mexico established a strategic partnership.
Liu Yuqin, a researcher of Latin American studies at the China Foundation for International Studies and former Chinese ambassador to Ecuador, Chile and Cuba, said the elevation of the bilateral relationship is based on the two countries' well-developed cooperation and shows that they consider each other important.
The Sino-Mexican relationship has developed well in many areas, including the economy, politics and culture, since they established diplomatic ties in 1972, Liu said.
"Despite some trade friction, the two countries have more common interests and have a strong desire to resolve differences through dialogue and negotiations," she said.
Liu said Mexico, an important member of the Community of Latin American and Caribbean States, plays an important role in promoting China's relations with this region.
"The enhanced China-Mexico relationship and Mexico's positive response to the establishment of the China-Latin America Cooperation Forum, which was advocated last year by former premier Wen Jiabao, is important to future cooperation between China and the whole region," Liu said.
Theodore Kahn, a researcher at Inter-American Bank, described Xi's visit to Mexico as a chance to "relaunch" the two countries' relations after a decade.
"Both countries have something to gain by closer ties, but seizing the opportunity will require dropping long-held preconceptions about the commercial relationship," Kahn wrote in The Diplomat on Tuesday.
"The arrival of new leaders in both countries presents an opportunity to forge a closer, more fruitful alliance between two key emerging markets."
Kahn believes Mexico should get over its obsession with trade deficits, which he said are numbers that fail to capture the complexity of the countries' commercial relationship and hinder opportunities for further cooperation.
He believes that Mexico stands to gain from China's expanding foreign direct investment, particularly in the energy sector, and in Mexico's own increasingly competitive manufacturing industry, especially in the wake of China's rising labor costs.
"Cooperation in these areas of mutual interest would give Mexico more leverage to address the trade-balance issue in a pragmatic way," Kahn said.
"Stronger overall ties, grounded in cooperation on areas of mutual interest, will make progress on trade issues more likely."
Shannon O'Neil, a senior fellow for Latin American studies at the Council on Foreign Relations, said that in the past few years, many in Mexico saw China as a competitor in international trade.
She believes Xi's visit and the agreements are an opportunity to begin changing this perception and reality, increasing trade in both directions.
Xi is scheduled to fly to California on Thursday, to meet with US President Barack Obama.
R. Evan Ellis, an analyst on Latin American economic, political and security issues at the Pentagon-funded National Defense University in Washington, said Xi's visit could help transform China's relations with the region.
Discussions about Latin America aren't likely to make it onto Xi's packed agenda with Obama in California, but the fact that the Chinese leader will have just arrived from a country as crucial to US interests as Mexico is a clear signal of China's increasingly confident role in the region, Ellis said.
Joseph Boris in Washington contributed to this story.