Xi's trip new chapter for China-Latin American ties
Updated: 2013-06-05 11:53
(Xinhua)
BEIJING - Chinese President Xi Jinping's ongoing trip to Latin America and the Caribbean has ushered in a new chapter in the region's fast-growing bilateral relations with China.
The trip also proves that the two sides can be each other's opportunities in their long-term comprehensive cooperation.
In the past decade,the development of bilateral trade testifies to the win-win cooperation China and its Latin American partners have vowed to seek.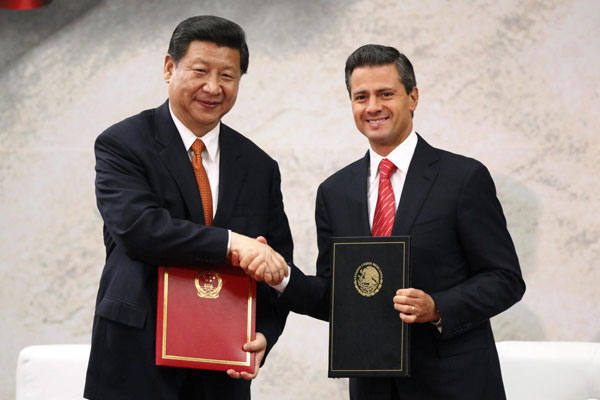 Mexico's President Enrique Pena Nieto shakes hands with President Xi Jinping during a news conference at Los Pinos Presidential Palace in Mexico City June 4, 2013. [Photo/Agencies]
China is now the second largest trading partner of Latin America and a leading source of investment in the region. It is the largest trading partner of Brazil and Chile. Free trade agreements have been signed between China and Chile, Peru as well as Costa Rica respectively.
Even amidst the global economic downturn and the European debt crisis, bilateral trade reached $261.2 billion in 2012, increasing by 8.1 percent year-on-year. It is expected to reach $400 billion in 2017.
It is undeniable that China's demand for commodities revived the growth engine for resource-rich Latin America in recent years. However, Latin America is not just China's raw material corner, nor is China Latin America's one-time bonanza.
To enhance cooperation across such geographical distances is not bricolage. The trade structures of China and Latin American countries are highly complementary. They offer a wide range of cooperation opportunities which have been expanded beyond energy to include, among other things, finance, agriculture, infrastructure, science and technology, aerospace, and tourism.
The economic exchange between China and Latin America has also found a balance between trade and investment, evolving from the trade-dominated mode at the very beginning.
China's investment in Latin America has reached around $65 billion and created much needed jobs in the region. The infrastructure projects funded by Chinese banks and built by Chinese contractors set good examples that China and Latin America have already been on track for comprehensive cooperation in the long term.
Meanwhile, China and Latin America are also facing common challenges during their development.
Rural-urban migration, sustainable development, environment protection and the widening wealth gap have been or are on the two sides' agenda.
According to the Global Competitiveness Index 2012-2013, China and most Latin American countries are in a development stage of "efficiency-driven" or in a transition stage of "efficiency-driven to innovation-driven."
China and Latin America do not simply surf the wave. They can learn from each other and help each other in the long run, making joint efforts to keep integrated into the value chain of global production.
It is eye-catching that the high-level exchanges between China and Latin America have been more frequent since the Chinese leadership transition. China-Latin American relations are an integral part of the Chinese government's overall diplomatic balance.
China and Latin America are inseparable in South-South cooperation. Both sides have exchanged views and supported each other on a variety of issues through world-class platforms like APEC, BRICS, G-20 summits and the newly set-up Latin America panel at the Boao Forum for Asia.
President Xi and other Chinese leaders have noted recently that China is ready to promote the establishment of the China-Latin America Cooperation Forum as a better platform to deepen the comprehensive cooperative partnership between China and the region.
Xi is the first Chinese president to visit Trinidad and Tobago and English-speaking Caribbean countries, and the second to visit Costa Rica. During his visits, Xi also met with leaders of several more nations in the region, including Antigua and Barbuda, the Bahamas, Dominica, Grenada, Guyana, Suriname and Jamaica.
The Chinese's president's visits are sure to bring new momentum and turn over a new page for China-Latin American relations.
Given the significant positions of Trinidad and Tobago, Costa Rica and Mexico in the Caribbean, Central America and Latin America, the visits are sure to set examples for the development of bilateral ties between China and other countries in the region.