Poverty elimination remains key task: Xi
Updated: 2013-06-04 17:26
(Xinhua)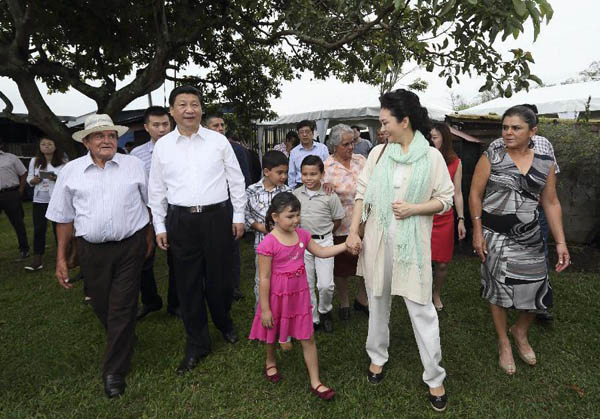 Chinese President Xi Jinping (2nd L, front) and his wife Peng Liyuan (2nd R, front) visit a local farmer's family in Costa Rica, June 3, 2013. [Photo/Xinhua]
SAN JOSE - Chinese President Xi Jinping said here Monday that poverty elimination remains an important task of the Chinese government.
When visiting a Costa Rican family that grows coffee beans, Xi said he had been a farmer and personally knows what life is like for Chinese farmers.
"China has made a major contribution to the world by helping more than 200 million people to get rid of poverty in the past few decades alone," he said.
Poverty eradication remains a priority on the agenda of the Chinese government in the coming years because there are still many poor people in the country, Xi added.
Chatting with the 77-year-old host, Marco Tulio Zamora, Xi said this is the first time he visited the Latin American country, lauding the simplicity, hardworking and wisdom of the Costa Rican people.
Xi also noted that China and Costa Rica inked a host of cooperation deals on agricultural trade during his visit, and China is expected to import more farm produce from Costa Rica.
Zamora said it was a great honor for his family to host Xi, while his youngest son said the visit reflected the profound friendship between the Chinese and Costa Rican people.
"We will remember this day forever," said his son.
Xi arrived in Costa Rica on Sunday, the second leg of his Latin American tour, which began with Trinidad and Tobago and is to end with Mexico.
Afterwards, he will fly to the US state of California to meet with US President Barack Obama.