Xi arrives in Costa Rica for state visit
Updated: 2013-06-03 10:54
(Xinhua)
SAN JOSE - Chinese President Xi Jinping arrived here Sunday for a state visit to Costa Rica with the purpose of promoting cooperation between the Asian giant and the Central American country.
Upon his arrival, Xi said Costa Rica is an important country in Central America and expanding bilateral cooperation is not only in line with the fundamental interests of the two nations but contributive to world peace and development.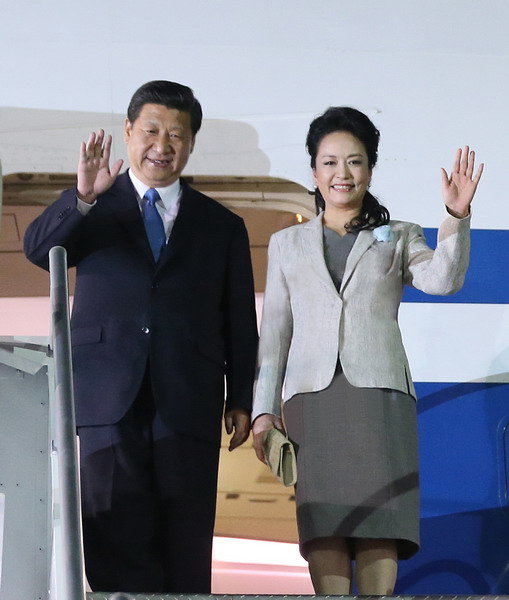 Chinese President Xi Jinping and his wife Peng Liyuan arrive at San Jose, capital of Costa Rica to start a state visit to the country, June 2 local time. [Photo/Xinhua]
Xi added that he looks forward to exchanging views with President Laura Chinchilla and other Costa Rican leaders on bilateral relations and other issues of common concern.
The Chinese president said he is confident that the visit will help the two sides cement mutual trust, expand cooperation, deepen friendship and achieve win-win results.
Costa Rican Foreign Minister Enrique Castillo extended a warm welcome to Xi and his wife, Peng Liyuan, at the airport.
Since China and Costa Rica established diplomatic ties in 2007, bilateral cooperation has borne rich fruit in various fields, with two-way trade growing rapidly thanks to their free trade agreement, which came into effect in August 2011.
Last August, Chinchilla paid a state visit to China, which injected new impetus to the comprehensive development of bilateral relations.
Xi's ongoing visit "can further strengthen the cooperative relations in economy and trade and in investment for the benefit of both peoples," Chinchilla told Xinhua in a recent interview.
Xi came to Costa Rica after wrapping up a state visit to Trinidad and Tobago, where he also met with the leaders of eight other Caribbean countries.
From Costa Rica, he will travel to Mexico for a state visit, and then fly to California for a summit meeting with U.S. President Barack Obama.
In a joint interview with media outlets from Trinidad and Tobago, Costa Rica and Mexico ahead of his Latin America tour, Xi said the purpose of the trip is "to deepen the traditional friendship between China and Latin America and expand their mutually beneficial cooperation."
"I am confident that the visit will give a strong boost to the China-Latin America comprehensive and cooperative partnership featuring equality, mutual benefit and common development," Xi said.