Xi vows to advance ties with Trinidad and Tobago
Updated: 2013-06-02 05:54
(Xinhua)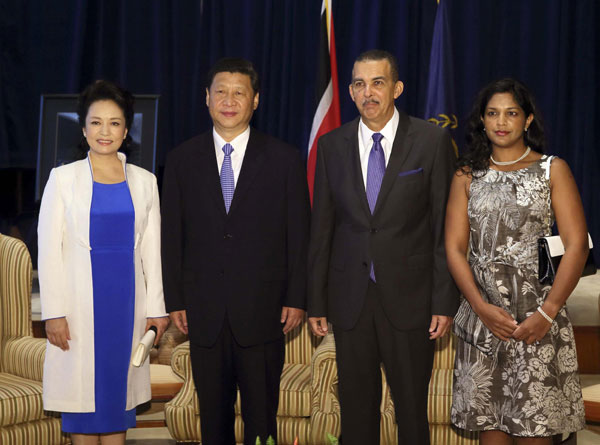 President Xi Jinping (2nd L) and his wife Peng Liyuan (1st L) pose for a group photo with President of Trinidad and Tobago Anthony Carmona (2nd R) and his wife before the meeting between the two presidents in Port of Spain, Trinidad and Tobago, June 1, 2013. [Photo/Xinhua]
PORT OF SPAIN - President Xi Jinping held talks here Saturday with Prime Minister Kamla Persad-Bissessar of Trinidad and Tobago and pledged to advance bilateral friendly cooperation.
Calling Trinidad and Tobago one of China's most important cooperation partners in the Caribbean, Xi said the two peoples enjoy a time-honored friendship and bilateral cooperation has great potential.
As the two nations prepare to mark the 40th anniversary of the establishment of diplomatic ties next year, China is ready to join hands with the Caribbean nation to further boost bilateral relations, he said.
To that end, Xi made a four-point proposal.
First, the two sides should enhance exchanges of high-level visits and communication between government agencies, legislatures and political parties of the two sides.
The two countries' foreign ministries, he suggested, should consult with each other from time to time so as to promote mutual understanding and trust.
The second is to actively expand cooperation in such sectors as infrastructure construction, energy and mining, while exploring new cooperation opportunities in areas such as agriculture, fishing, science and technology, investment and financing, telecommunications and new energy.
Third, they should enhance people-to-people exchanges, especially those in tourism, culture, education and training, health care, sports and media.
The two sides, he added, should also rev up youth exchanges, set up a Confucius Institute in Trinidad and Tobago at an early date, and carry out next year's celebrations smoothly, so as to cement mutual understanding and friendship.
The fourth is to strengthen coordination on international affairs. Xi said China fully understands the special situation and concerns of small island countries on the issue of climate change, and has always been supportive of their appropriate demands in climate change talks.
China, he said, will actively consider providing energy-saving products for relevant Caribbean countries, so as to help them enhance their abilities to adapt to and cope with climate change.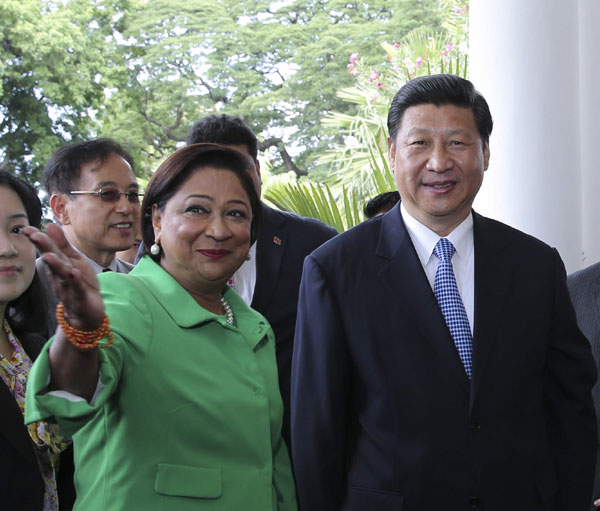 President Xi Jinping (R) is welcomed by Prime Minister of Trinidad and Tobago Kamla Persad-Bissessar before their talks in Port of Spain, Trinidad and Tobago, June 1, 2013. [Photo/Xinhua]
For her part, Bissessar said the Chinese people first arrived in Trinidad and Tobago more than two centuries ago, and have now become an integral part of local society.
Noting that her country is pursuing a strategy of economic diversification, she said Trinidad and Tobago is willing to bolster exchanges with China, advance bilateral cooperation in various areas, and attract more Chinese investments.
She said her country is also willing to promote people-to-people exchanges with China and enhance cooperation in language training and health care.
Trinidad and Tobago, she added, welcomes Chinese tourists and hopes that a Caribbean music festival will be held every year in China.
Trinidad and Tobago is ready to cooperate with China on major world issues and jointly meet global challenges, she said.
The prime minister also thanked China for its sustained support for her country's economic and social development, citing a series of infrastructure projects.
Describing Xi's visit as "historic," she said the trip will help steer the bilateral ties toward greater progress.
Following their talks, the two leaders witnessed the signing of some cooperation agreements between the two sides.
Trinidad and Tobago is the first leg of Xi's ongoing Latin America tour, which will also take him to Costa Rica and Mexico.
Related stories:
Xi stresses friendship, cooperation
Trinidad and Tobago PM hails Chinese dream
Visit will enhance ties with Caribbean