China-Trinidad and Tobago cultural relations expanding
Updated: 2013-06-02 02:08
(China Daily)
The cultural relations between China and Trinidad and Tobago have grown by leaps and bounds in recent years, with an increasing number of exchange visits by art groups and more diversified forms of performances, China's Ministry of Culture said.
Wuju, a kind of opera in Jinhua, East China's Zhejiang province, is one of the favorites of the people of Trinidad and Tobago.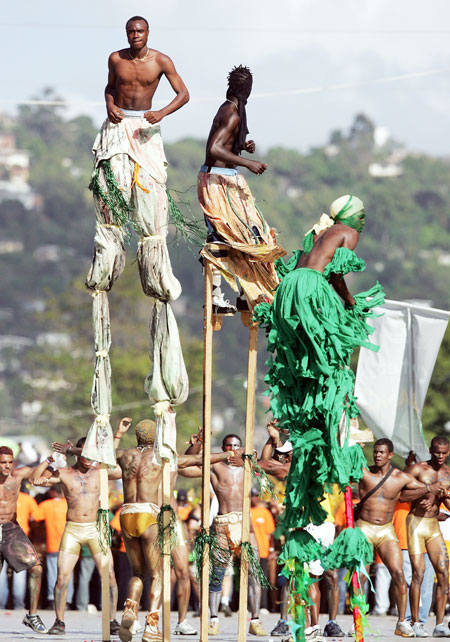 Revelers walk on stilts during a parade at a carnival at Port of Spain. China and Trinidad and Tobago have strengthened their cultural exchanges. [Photo/Xinhua]
In March, China's Ministry of Culture sent the Wuju Opera Troupe of Zhejiang to perform at the Queen's Hall in Port of Spain.
Yan Lixin, director of the troupe, said their performances were highly praised by Lincoln Douglas, the country's Minister of Arts and Multiculturalism.
"Douglas said he was so lucky to have the opportunity to enjoy the splendid Chinese local opera," Yan said. "He had a meeting to attend on the night of the show, but he enjoyed the Wuju show so much that he left reluctantly at the last minute before the meeting started."
The troupe was not the first Chinese art group to perform in the island country.
According to China's Ministry of Culture, art exchanges have been carried out since the two countries established diplomatic relations in 1974, and in the past, China's acrobatics was commonly seen in Trinidad and Tobago.
In January 2005, China signed a cultural agreement with Trinidad and Tobago to enhance artistic and cultural exchanges between the two countries.
The two countries agreed to encourage and support direct contact and cooperation between governmental and non-governmental institutions, organizations and people in fields such as theater, music, dance and other artistic groups.
Artistic and cultural exchanges will continue, the Ministry of Culture said.
Yang Le, a 31-year-old folk singer from People's Culture Center in Luohu district, Shenzhen, Guangdong province, went to Trinidad and Tobago with other Shenzhen folk musicians and dancers in May 2012.
Their first performance in the country was given in the national center for the performing arts, where all the 1,200 seats were sold out. "When the curtain went down at the end of the performance, we got a standing ovation," Yang said.
Zhang Chonggao, director of Weifang Kite Fair Office of Shandong province, shared the good memories he had when he and his colleagues exhibited Weifang traditional kites in Trinidad and Tobago.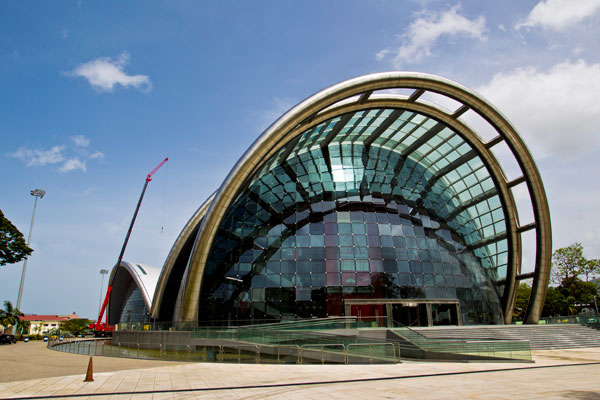 The national center for the performing arts in Port of Spain, which was built with aid from China. [Photo/Xinhua]
Zhang, 50, who has been working in the kite industry for 12 years, was an organizer of the Weifang Kites Exhibition held in Trinidad and Tobago in November 2012. In a stadium, Zhang and his colleagues showed people how to fly the traditional Weifang kites.
"Many people, grown-ups, children and even government officials were attracted to fly the kites together with us," Zhang said. "The activity went on for a whole afternoon, and we all had fun."