Li vows to enhance amity between China, Thailand
Updated: 2013-10-12 20:13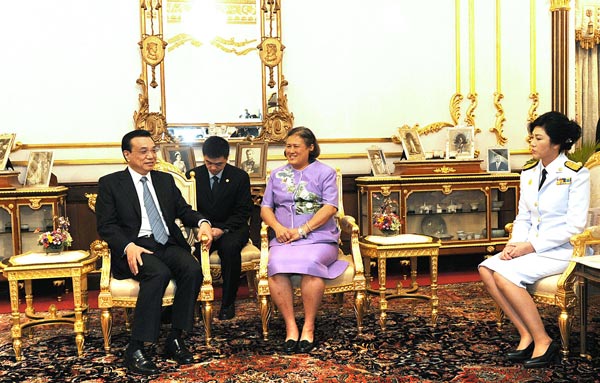 Chinese Premier Li Keqiang meets with Thai Princess Sirindorn in Bangkok, Thailand, Oct 12, 2013. [Photo/Xinhua] 
BANGKOK -- Chinese Premier Li Keqiang pledged here on Saturday to pass down the traditional "familial affection" between his country and Thailand from generation to generation.
China and Thailand have been close in terms of culture and people-to-people exchange, and the people of the two countries have affectionate feelings for each other, Li said when meeting with Thai Princess Sirindorn, representative of King Bhumibol Adulyadej.
He noted that the Thai royal family has made important contributions to boosting amity between China and Thailand and promoting understanding and friendship between the two peoples.
Calling Princess Sirindorn an "envoy of friendship" between the two peoples, the Chinese premier said the princess has paid visits to China, advanced China-Thailand cooperation in culture and education, and actively participated in charity in China.
The China-Thailand comprehensive strategic cooperative partnership has entered a fresh period of development, Li said.
China attaches great importance to developing ties with Thailand and is ready to push for new breakthroughs in cooperation in major areas in accordance with the two countries' respective development strategies, so as to constantly inject fresh impetus to China-Thailand ties and pass their "familial affection" from generation to generation, he said.
Princess Sirindorn said the royal family attaches great importance to relations with China and supports the government in enhancing comprehensive pragmatic cooperation with China.
The princess said she has special a feeling toward China as she has visited the country more than 30 times, expressing her wish that China's economy could be further developed and the "Thailand-China familial affection" be further ingrained in the hearts of the two peoples.
Li arrived here Friday for an official visit to Thailand, the second leg of his maiden trip to Southeast Asia since he took office in March.
The Chinese premier attended a series of meetings with East Asian leaders in Brunei and paid a visit to the country. He will also travel to Vietnam.
Related
2013-10-12 07:09:44
2013-10-12 03:23:06
2013-10-11 15:11:22
2013-10-12 18:15:41
2013-10-12 04:35:56
2013-10-12 01:18:47
Oct 9-11: Attend East Asia Leaders' Meetings and Pay State Visit to Brunei

Oct 11-13: Pay State Visit to Thailand

Oct 13-15: Pay State Visit to Vietnam