Wukan elects village committee
Updated: 2012-03-03 14:30
| | | | | | | | | | | |
| --- | --- | --- | --- | --- | --- | --- | --- | --- | --- | --- |
|   | | Comments() | | Print | | Mail | | Large Medium  Small | 分享按钮 | 0 |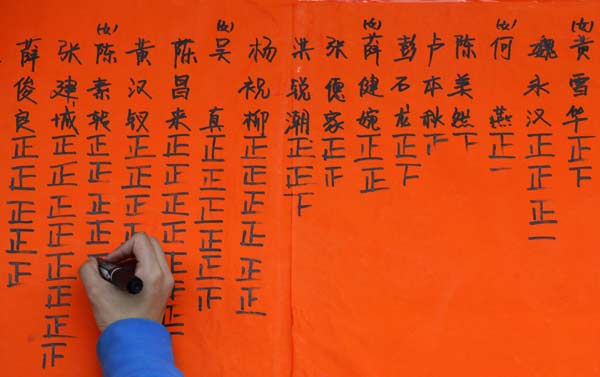 An election worker counts votes after an election in Wukan, southern Chinese province of Guangdong March 3, 2012.[Photo/Agencies]
WUKAN, Guangdong - Thousands of people in south China's village of Wukan went to polls Saturday to elect a new village committee, several months after staging massive protests over illegal land sales and other issues.
The villagers cast their ballots at a voting center set up on a village school campus 9 a.m. and 3 p.m. Saturday. The results are due late Saturday night.
Twenty-two candidates delivered public speeches on Wednesday to woo votes.
"I hope the winners will be brave people of integrity who will dare to take responsibility and won't let us down," said villager Chen Xidong.
Villager Zhu Jianyi, who works in the provincial capital of Guangzhou some 300 km away, said he came all the way back to the village for the key election.
"I'm very happy and excited to see the village committee being reelected," Zhu told Xinhua. "I hope the new committee will be fairer and build my hometown into a better place."
The village committee includes at most seven members, including a chief and two deputy chiefs. A 50-percent turnout is required to validate the election results, and winning candidates are required to take at least half of the votes.
An additional election would be held Sunday if fewer than three people obtain the required number of votes.
Saturday's voting marked the last phase of a three-phase election that has resulted in the selection of an 11-member election committee and 109 village representatives thus far.
The fishing village has 8,107 registered voters out of a population of about 12,000. Voters are required to show identification and obtain written authorization before they can cast their votes.
"This is a very solemn and regulated election," said Zhu Jiangang, head of the social development research center at Guangzhou-based Sun Yat-sen University.
"The procedural details are as good as what I have seen in many elections in the west," said Zhu, also an election observer.
The voter turnout was 81.4 percent Saturday, sustaining the high levels seen during the last two elections and indicating the villagers' enthusiasm for more open and transparent direct elections.
Local resident Yang Jinlu said Saturday's voting was the most open, impartial and fair village committee election he has ever seen.
"It was the first time that I could cast a vote and follow my own will. Only in this way can we elect village heads who can do things for us," Yang said.
An election of village heads a year ago was declared invalid after provincial authorities found several violations, including a failure to publicize a list of candidates and the fact that several candidates were working as election organizers.
The residents of Wukan confronted the local government over illegal land grabs, financing and the violation of local election regulations in the second half of last year.
The protests simmered for months, becoming violent in December when a village representative died in police custody. Police then sealed off the village's exits to stop protesters, while the villagers barricaded village entrances to stop local security forces and government officials.
The protests came to an end in late December after a provincial government work team held talks with the villagers. The group acknowledged that the villagers' demands were reasonable and that "some mistakes" were made by local officials.
Hot Topics
Wu Ying, iPad, Jeremy Lin, Valentine's Day, Real Name, Whitney Houston, Syria,Iranian issue, Sanyan tourism, Giving birth in Hong Kong, Cadmium spill, housing policy