Strain worth it for a better life in the field
Updated: 2012-02-21 09:35
By An Baijie and Xiang Mingchao (China Daily)
| | | | | | | | | | | |
| --- | --- | --- | --- | --- | --- | --- | --- | --- | --- | --- |
|   | | Comments() | | Print | | Mail | | Large Medium  Small | 分享按钮 | 0 |
HEBI, Henan - Placing pollen bags over the tassels of corn plants is something Cheng Xiangwen has been doing regularly for close to 50 years.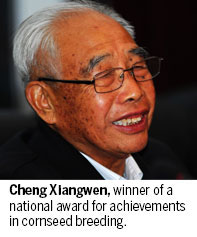 It's a basic but essential part of the cornseed breeder's job and Cheng's skills have been appreciated by farmers and benefited the economy for many years.
Now his hard work and lifelong dedication have been recognized at the highest level.
This month, Cheng, 76, head of the Hebi Agricultural Academy in Henan province, received the National Award for Science and Technology Progress for his achievements in corn seed breeding.
Modestly, he commented: "I am just a farmland worker, and all I have done is to cultivate a strain of corn accepted by the farmers."
However, that strain, Xundan 20, approved by the agricultural authorities in 2003, has become one of the most widely planted strains in the vast region of northern China.
Tang Quanhe, a farmer in the Juqiao township of Hebi, who has been planting 1,200 mu (80 hectares) of corn since 2006, said that Cheng's strain has proved the most profitable.
"In the past, I planted other corn strains and would harvest about 650 kilograms per mu, but the output has reached more than 800 kg per mu since I started using the corn strain developed by professor Cheng," Tang said. Tang said his income increased by 500,000 yuan ($79,000) in 2011.
"All of the farmers in my village are planting the new corn strain now," he added.
Cheng conceded that breeding an excellent strain of corn isn't easy. It takes a lot of time and effort.
"Whenever the weather changes suddenly, and there are strong winds or heavy rain, we will closely examine and compare different strains' characters in the extreme weather to find out their advantages and disadvantages," Cheng said.
Cheng and his colleagues usually have to work for more than 10 hours each day during the pollination period when the weather is hot and wet.
"It's the most important time for seed breeding. If work is delayed, a whole year's efforts will have been wasted," he said. "And to breed a new strain of corn usually needs at least eight to 10 years."
To make full use of his time, Cheng has been like a migrating bird since 1963 - staying in Henan during spring and summer and moving to South China's Hainan Island in autumn and winter. The warm weather there can bring him two corn harvests, which is impossible in his hometown.
Cheng said he devoted himself to a seed-breeding career "to help the farmers harvest more grains".
He started his research on corn seeds in 1963 after he graduated from the local agricultural college and became a technologist on a farm in Xunxian county. Farmers there could harvest only about 100 kg of corn per mu at that time.
After 40 years, Cheng's hard work paid off. His Xundan 20 corn strain was shown to yield more than any other strain in experiments, and it was approved and promoted nationwide by the Ministry of Agriculture.Hu Quangui, deputy director of Hebi Agricultural Bureau, said the Xundan 20 seeds were now used throughout the country on more than 200 million mu, resulting in a corn harvest worth 1.5 billion yuan ($238 million).
However, despite a stable increase in output, the country's demand for corn has soared in recent years with the development of livestock breeding. China had been a corn exporter for almost 30 years until 2008, when it started to import.
The United States Department of Agriculture forecast this month that China's corn imports are estimated to reach 3 million tons in 2012 and 16 million tons by 2020.
"We agricultural technologists should work harder to breed better corn seeds to increase the country's grain supply," said Cheng.
He vowed to catch up with his US counterparts, whose highest record of corn output in the laboratory was about 1,800 kg per mu, while his highest record is 1,500 kg per mu.
But what worried him most was not the lack of good seeds, but the fact that most young men in rural areas give up farming to become migrant workers in the city.
Hot Topics
Wu Ying, iPad, Jeremy Lin, Valentine's Day, Real Name, Whitney Houston, Syria,Iranian issue, Sanyan tourism, Giving birth in Hong Kong, Cadmium spill, housing policy