Soccer referees going to prison for game-fixing
Updated: 2012-02-17 07:43
By Wang Huazhong (China Daily)
| | | | | | | | | | | |
| --- | --- | --- | --- | --- | --- | --- | --- | --- | --- | --- |
|   | | Comments() | | Print | | Mail | | Large Medium  Small | 分享按钮 | 0 |
SHENYANG - Soccer players and commentators were saying the jail sentences four match-fixing referees received on Thursday were not enough to clean up Chinese soccer.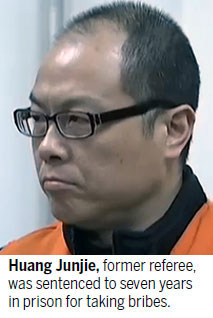 "Golden Whistle" Lu Jun, once regarded as the nation's top referee for being the only one in China to referee in the World Cup, was sentenced to five years and six months for accepting 810,000 yuan ($129,000) in bribes from 1999 to 2003.
Other bribe-taking referees got jail sentences from three and half to seven years in courts of Northeast China's border city, Dandong.
Hao Haidong, a well-known soccer player, said on Thursday that sooner or later, corruption anywhere will be found out and punished.
"But one or two sweeps for fraud (in Chinese soccer circles) won't solve the problem. Only prolonged, regular attention and restructuring will do," he told China Daily, adding, "Chinese soccer is a microcosm of Chinese society."
Li Chengpeng, a respected soccer commentator and once close to Lu, said he was "saddened" by Lu's imprisonment because Lu was the best referee in China.
"But his personal tragedy is caused by the tragedy of the sport," Li said, adding "that tragedy continues."
"Because no one has admitted guilt, it was necessary to crack down on the crime, but the problem hasn't been solved yet.
"Turning around the future of soccer in China depends on reforming how it's managed."
Opinion on the verdicts was mixed among netizens, many saying the sentences will set off alarms and breathe new life into the game in China.
Three other referees found guilty of taking bribes were sentenced to prison and had their assets confiscated on Thursday.
The court ordered the confiscation of Lu's personal property worth 100,000 yuan.
Huang Junjie, as well-known as Lu to Chinese soccer fans, was sentenced to seven years in prison and will have his personal property worth 200,000 yuan confiscated.
Huang used to be one of the best-known soccer referees in China. He had refereed for more than 20 years and was internationally certified to referee in 1998.
Former soccer referee Zhou Weixin was sentenced to three and a half years in prison.
Wan Daxue was sentenced to six years.
The sentencing is part of a crackdown on soccer gambling and game-fixing that began in 2009, when Nan Yong, former Chinese Soccer Association vice-president, and his predecessor Xie Yalong were arrested on bribery charges.
Yi Shenghua, a lawyer in Beijing, said non-government employees found guilty of soliciting or taking bribes can be sentenced to more than five years in prison.
"Accepting bribes worth more than 100,000 yuan can be regarded as a serious offence. The jail sentences the referees received were less, but appropriate, given their cooperation during the proceedings.
"I think the cases will have a positive influence on cleaning up the sport's spirit."
Tang Zhe in Beijing, Liu Ce in Shenyang and Xinhua contributed to this story.
Hot Topics
Wu Ying, iPad, Jeremy Lin, Valentine's Day, Real Name, Whitney Houston, Syria,Iranian issue, Sanyan tourism, Giving birth in Hong Kong, Cadmium spill, housing policy